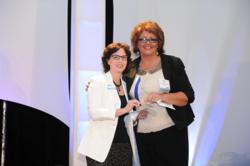 "I am humbled and so honored to receive this award," said Ms. Guy. "Telemedicine is changing lives. GPT is leading the way from right here in Georgia. Our mission is to get healthcare anywhere in the world using our infrastructure. Technology allows us to
(PRWEB) November 27, 2012
More than 650 of Georgia's most influential executives in communications and technology gathered in Atlanta to honor over 30 leaders for their impact in 2012 under the theme of Transformation.
"The 2012 Association of Telecom com Professional Awards Gala was a huge success and just a great time," said Gary Humphrey, Chairman of the 2012 ATP Awards Gala. "This year, we celebrated under the theme of 'Transformation'. Each of our winners, especially, John Marshall, CEO and Founder of AirWatch, exemplify transformation as leaders and with their innovative contributions to Georgia's communications and technology industry."
A Special Award for Leadership Impact was given this year to Paula Guy, CEO of Global and Georgia Partnership for TeleHealth. With 12 years of leadership experience in building telemedicine networks and serves on a variety of boards for organizations involved in telehealth, Ms. Guy has led the Georgia Partnership for Telehealth to become the most robust and comprehensive telehealth network in the nation.
"I am humbled and so honored to receive this award," said Ms. Guy. "Telemedicine is changing lives. GPT is leading the way from right here in Georgia. Our mission is to get healthcare anywhere in the world using our infrastructure. Technology allows us to do just that. We are highly recognized in the industry as the only coordinated statewide network in the nation. I am the most blessed person to have the best board and people on my team that work so hard to make a difference in healthcare. We are extremely excited that ATP recognizes our efforts."
Other 2012 ATP award winners announced at the annual Gala include:

Leadership Award for Enterprise – Jim Scholefield, CTO, The Coca-Cola Company
Innovation Award for Enterprise – Ken Brady, VP Systems Technology and Digital Media, Turner Studios/TBS
Leadership Award for Technical Service Provider, Mike Miller, CEO and Founder, Fiberlight
Innovation Award for Technical Service Provider, Lance Rigdon, Sr. Director Product Delivery, Manheim
Leadership Impact Award(*) - Paula Guy – CEO, Global Partnership for Telehealth
(*) Leadership Impact Award is new for 2012 – ATP Awards Gala
Karen Finger, ATP President, said she looks forward to an even more transformative year for the organization in 2013 - building on this year's ATP Awards Gala theme.
"We are so pleased with the caliber and number of qualified finalists' entries that were received this year for consideration by ATP for these prestigious awards," said Karen Finger, ATP President. "We look forward to Gary Humphrey chairing the Gala again and another fantastic year for our organization as we usher in a milestone year and 10th Anniversary for the annual ATP Awards Gala in 2013."
About the Association of Telecommunications Professionals (ATP)
The Association of Telecommunications Professionals (ATP) is a volunteer, non-profit industry association enabling communications and technology professionals to connect. The mission of the organization is to provide professional networking and leadership development opportunities, industry and thought leadership education, and recognition of excellence and achievement in support of promoting Georgia as a global leader and hub in communications technology. ATP, through its' annual ATP Awards Gala, promotes Georgia as a center of excellence for leadership, innovation, and achievement in the communications and technology industry. Now in its' ninth year, the annual ATP Awards Gala continues to grow in visibility and participation each year. ATP was founded in 2000. For more information, please visit the website at http://www.atpconnect.org.
About:
Georgia Partnership for Telehealth, Inc. is a charitable nonprofit corporation which was formed to promote improvements in healthcare and healthcare facilities in rural and underserved communities throughout the state of Georgia by assisting in the establishment of Telemedicine Programs. GPT is known as the leading agency in Georgia focusing on increasing access to healthcare through innovative use of technology including telemedicine, health information exchange and telehealth.
Global Partnership for Telehealth's mission is to deliver worldwide access to healthcare. Our unparalleled success in the United States in applies telehealth programs and services has assisted agencies in providing cost effective, efficient, and high quality healthcare to hundreds of thousands. GPT is reaching beyond our borders to bring healthcare to the world.