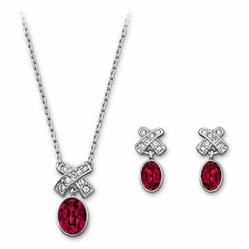 London (PRWEB UK) 28 November 2012
Crystal aficionados will mark the two weekends through December 9 in the calendar – 'tis the season of the Swarovski Weekend Specials! Each weekend, Swarovski will offer an eye catching jewellery set, limited to 500 pieces worldwide and exclusively available online.
Swarovski is opening the weekend specials with the Limited Online Edition Rice Set. Eye-catching Siam crystals and clear crystal highlights in rhodium-plated setting make for the right amount of shine. Exclusively available online, the pendant and pierced earrings are a fitting addition to your very favourite LBD. This Limited Online Edition is only available during the weekend commencing the 30th of November 2012, so do plan a visit!
The second weekend special is available from December 7, 2012 onwards. Simple yet stunning, the rhodium-plated pendant and button pierced earrings of the Limited Online Edition Mona Set are cut above. The pendant impresses with a prong set solitaire crystal, maximising the gem's play with light. It sets a perfect example of Swarovski's enchanting crystal craftsmanship and expertise. If refined and elegant is for you, this set of pendant and pierced earrings should rank on the very top of the list of self indulgences!
Visit the Swarovski website for more information on these exclusive products.
For online use only.
In 1895, Daniel Swarovski, a Bohemian inventor and visionary, moved to the village of Wattens, Tyrol in Austria, with his newly-invented machine for cutting and polishing crystal jewellery stones. From this beginning that revolutionised the fashion world, Swarovski has grown to be the world's leading producer of precision-cut crystal for fashion, jewellery and more recently lighting, architecture and interiors. Today, the company, still family-owned and run by 4th and 5th generation family members, has a global reach with some 23,000 employees, a presence in over 120 countries and a turnover in 2010 of 2.06 billion Euros. Swarovski comprises two major businesses, one producing and selling loose elements to the industry and the other creating design-driven finished products. Swarovski crystals have become an essential ingredient of international design. Since 1965 the company has also catered to the fine jewellery industry with precision-cut genuine and created gemstones. Showing the creativity that lies at the heart of the company, Swarovski's own brand lines of accessories, jewellery and home décor items are sold through more than 1,900 retail outlets worldwide. The Swarovski Crystal Society has close to 325,000 members across the world, keen collectors of the celebrated crystal figurines. And in Wattens, Swarovski Kristallwelten, the multi-media crystal museum, was opened in 1995 as a celebration of Swarovski's universe of innovation and inspiration.