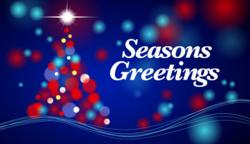 Many senders and recipients now prefer to receive electronic Christmas cards, to lessen the environmental impact
(PRWEB) November 27, 2012
Today, niche provider of online cards Katie´s Cards reported a tripling of orders of its corporate cards, as three times as many businesses compared to 2011 opt to send their Christmas greetings electronically.
Rachael Ellis, Head of Marketing at Katie's Cards, believes that increasing awareness about the environmental impact of sending paper cards, combined with people's growing online presence, is driving the demand. "It's estimated that 60% of all paper cards are sent at Christmas, so with roughly 1.8 billion greeting cards bought each year in Britain alone, that equates to 774 million printed Christmas cards," she said. "At least 200,000 trees will be felled in order to feed this trade, then compounded by the industrial print and transport resources required, many senders and recipients now prefer to receive electronic cards, to lessen the environmental impact."
With the average UK household sending almost 30 paper Christmas cards, it's clear that it is the busiest time of year to get in touch. However, around a third of UK computer users are now opting to send their Christmas cards electronically, as more of us have access to PCs, broadband and smartphones. For businesses, distributing bespoke Ecards is an excellent way of staying in touch with their customers, combining important company information with a personal touch.
Katie's Cards offers a range of static or animated Christmas E cards, the latter being compatible with the iPhone and iPad, which can be easily personalized by businesses and sent to customers, prospects, staff or other stakeholders. It also offers a bespoke design service, in which its highly skilled designers work on an individual brief to create a unique Christmas E card. The cards, which start at £75 ($120 USD) for a personalized static Ecard and £195 ($295 USD) for an animated Ecard, also feature a tracking service to see how many recipients have opened and viewed their cards, to demonstrate the all important return on investment.
"Compared to the same period last year, our sales are up by 300%," continued Ellis. "We believe the combination of cost and the environmental benefits of Ecards have fed the growth. Many of our customers have opted to use existing card templates and simple personalization techniques. This means that our customers benefit from a rapid turnaround; by uploading their logo, website and message, they can distribute the card within minutes."
Katie's Cards also offers customers a choice of delivery; either it can provide a link to a webpage containing the Christmas Ecard that companies can send to their targets or users can upload their recipient list in a spreadsheet and send it automatically and immediately from the site.