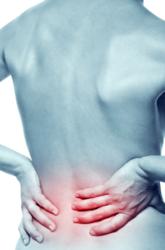 By incorporating traditional and alternative treatment options, Texas Pain maintains over a 95% success rate in getting patients' pain completely under control along with return to work
Longview, Lufkin, Sulphur & Tyler, Texas (PRWEB) November 26, 2012
When it comes to missing time from work, losing concentration, and being unable to play with one's children, sciatica can be a detriment. Surgery for a herniated disc entails risks, so the best way to handle sciatica is with lower risk nonoperative methods. By incorporating traditional and alternative treatment options, Texas Pain maintains over a 95% success rate in getting patients' pain completely under control along with return to work.
Sciatica pain does not always present the same, therefore, treatment should be individualized for best results. By having so many effective options, this pain clinic in … is able to achieve success the vast majority of the time.
The various therapy options include:

Medication Management – Muscle Relaxers, NSAIDS, Opiates, Medrol, Neurogenic medications (e.g. Neurontin)
Physiotherapy and Physical Rehabilitation
Chiropractic Treatments – Manipulations, ice/heat, electrical stimulation, ultrasound.
Massage and Acupuncture
Trigger Point Injections
Three kinds of Epidural Steroid Injections – (transforaminal, interlaminar and caudal)
TENS Units
Spinal Decompression Therapy
The Board Certified and Award Winning team of Texas pain management doctors and chiropractors are able to tailor therapy based on patient presentation. This may entail injections later in treatment if needed, or very early to facilitate a patient's ability to participate in physiotherapy.
Spinal decompression therapy is a treatment involving intermittent spinal traction that is FDA cleared, low risk and over 85% effective in reducing the pain of sciatica and degenerative disc disease. Epidural steroid injections have been shown to offer 75 to 90% successful pain relief. They may be necessary as a series for optimal effectiveness, and usually work well in conjunction with other available treatments such as short term medication management.