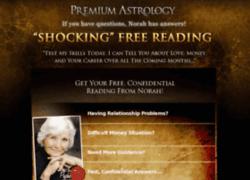 Hello Norah, thank you for focusing your energies on me to help me gain insight during this challenging time. I appreciate your wisdom and guidance. L. – Gemini
Phoenix, AZ (PRWEB) November 29, 2012
Meet world renown Astrologer Norah. When other kids were playing "dress up", Norah was reading, writing, and interpreting astral charts as a young girl. Taught by her Mother, Norah learned early on how to map someone's future based on astral configurations derived from detailed astral chart reports. Read the compelling testimonials from happy users.
"First of all, Norah I Love, really Love hearing from you. Everything you say about me is so true it is like you are looking at me and telling me my Life story. Norah I would Like to thank you for an excellent Transit Reading, I will keep a Journal and yes, Norah I am feeling different and I believe my future will be more rewarding, with you guiding me with your knowledge." Your Friend, L. – Libra
"All I can say is wow, Norah you really nailed everything I have been pondering over the last month. I have never had much success with this kind of thing and have always taken it with a grain of salt. Thank you so much for your clarity." K. – Aquarius
"Wow! Is this reading a eye opener! All my life I was to scared to try anything unusual. What if it didn't work out! There was always someone ready to say I told you so!!! So I just left everything that came my way and let it pass. But things is going to change from today!! Thanx Nora[h] for helping me to be that person I [always] want[ed] to be. All I want to be is to be happy, loved and appreciated!!" P. - Aries
Read more testimonials and become one when you try Norah's free detailed astrology report.
Users get free astrological guidance, detailed reports on current and forecasted transits with the Transit Guide, and free gifts. Let Norah help, visit https://premiumastrology.com/ for more information and offers now.