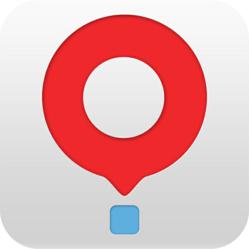 Beijing, China (PRWEB) November 27, 2012
Outin Inc., a burgeoning mobile lifestyle solutions and social connection developer, is excited today to announce the launch of Outin 1.4.0 onto the App Store. Universally compatible with iPhone, iPad, and iPod touch devices running on iOS 4.3 or later, this wildly dynamic new photography focused social connection engine gives users the power to find and share photos with the world around them in a totally new way. Outin redefines what immersive photo sharing is all about - users snap shots and "throw" them out with the literal wave of a hand. Where those pics land is up to chance, and whoever is close that the locations where they do land instantly gets them. The app works both ways too, as users can choose to either be the ones catching or the ones throwing out awesome new content whenever they'd like! Outin is currently available for download on the App Store for free in the Photo & Video category.
Already an established hit with over 20,000 active users spread across 56 countries, Outin makes reaching around the world to connect, get a glimpse of other users lives, and see what they're thinking as simple as gesturing a throwing motion. The app is simple to use - simply take a photo, add in some optional audio notes on whatever your subject matter is, pick a filter to make it shine just how you want it to, and 'throw' it out for someone to catch! Outin randomly chooses how far they'll fly, where in the world your photos go once you throw them, and any user whose account is tagged nearby will catch them. It's spontaneous, engaging, but most importantly it's a whole new way to visually interact with like minded people on a global scale!
Outin features two unique in-app modes as well, "In" and "Out". When in "Out" mode users can see what photos users from nearby are throwing out into the world, while "In" mode allows them to simply play catch and view whatever lands close to them instead! As well rounded a solution when it comes to photo creation as it is a revolutionary pic sharing solution, Outin features over a dozen unique color enhancing photo filters for users to choose from, instant sharing options via Facebook & Twitter, and now includes more flexible location preferences together with a newly optimized UI and the ability for users to upload photo drafts. What do you have to lose? Take a shot, throw it out, and see what the world throws back at you with Outin!
Company site
http://www.outinapp.com
Outin
https://itunes.apple.com/us/app/outin/id558798500?mt=8
About the Developer:
Outin Inc. focuses on developing mobile social apps in Beijing, Founded in November 2011.
© Outin Inc. 2012. All Rights Reserved. Apple, the Apple logo, iPhone, iPod touch and iPad are registered trademarks of Apple Inc. in the U.S. and/or other countries.