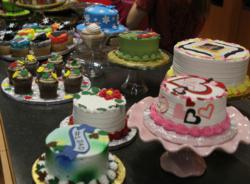 These new products will continue to open up the realm of at-home decorating with edible papers and products - it really is EASY!
Winchester, Virginia (PRWEB) November 27, 2012
New edible decorating products from Icing Images that will put the ease into decorating treats for the holidays and beyond, will be seen for the first time on America's premier morning show, The Balancing Act on Lifetime Television.
New cutting tools paired with colored icing sheets, edible markers, and edible food coloring sprays, will give even the most timid decorator the ability to easily personalize cakes, cookies or any sweet treat!
Debbie Coughlin, owner of Icing Images, along with her 12 year old daughter Jackie will demonstrate the new products. Jackie will show just how fun and easy it is even for kids to decorate with edibles!
Certified Master Sugar Artist, Mike Terry, from TLC's Ultimate Cake Off, will also be on hand to showcase how professional decorators are using the products to take their decorating to a whole new level.
The show will be aired on November 29th at 7 a.m. ET/PT on The Balancing Act on Lifetime Television.
Icing Images specializes in selling edible printing systems and supplies using only the latest technologies in edible ink and edible paper. They have created custom edible images and sold edible printing systems and supplies such as frosting sheets, electronic cutters, and edible inks to thousands of customers since 1999.
Debbie Coughlin and her team are excited about entering the market of in-home edible decorating.
Learn more about Icing Images: http://www.icingimages.com