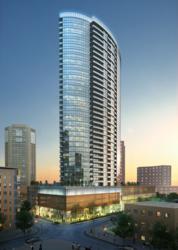 Washington, D.C. (PRWEB) November 28, 2012
Ullico Inc., today announced it will extend up to $20 million in financing through its Separate Account J, also known as "J for Jobs", for the construction of Loring Park Tower, a 37-story, 354-unit high-rise apartment building in downtown Minneapolis, Minn.
"We are proud to be a part of this great project," said Edward M. Smith, president and CEO of Ullico Inc., at a celebration event with members of the Building and Construction Trades Council of Minneapolis. "The commercial real estate market has weathered a storm over the last few years. But, we see new and exciting opportunities to make quality investments and generate returns in the marketplace right now. 'J for Jobs' is back and poised for great success."
As a condition of Ullico's funding, Loring Park Tower will be built with 100 percent union labor. Ullico's Real Estate Investment Group estimates the construction of the tower will require an estimated 2.7 million labor hours annually, resulting in over a 1000 jobs for members of the Minneapolis area construction and building trades.
"Since the recession began, about 20 to 30 percent of our members have been out of work," said Dan McConnell, business manager of the Minneapolis Building and Construction Trades Council. "To have a company like Ullico make an investment like this that puts our members to work and lets them provide for their families is more than welcomed."
The Magellan Development Group of Chicago will be responsible for developing, leasing, and managing the Loring Park Tower property.
J for Jobs, Ullico's $2.3 billion flagship commercial real estate investment vehicle, has a 35-year tradition of delivering attractive and competitive fixed-income performance to institutional investors, while at the same time creating thousands of jobs for union members. Since its inception in 1977, construction projects financed by J for Jobs have generated an estimated 547 million labor hours, resulting in an estimated 280,000 union construction jobs.
"We have a successful strategy of finding quality commercial real estate investments that provide our investors with solid and competitive returns year after year," said Herbert A. Kolben, senior vice president of Ullico's Real Estate Investment Group. "J for Jobs' 34 and 1 positive return record over the past 35 years is a record we're proud of."
"This win-win strategy of using labor's money to finance construction projects that grow investment and pension funds and put union members and contractors back to work is why the union market place has no better partner than Ullico," Smith added.
Ullico is the only labor-owned insurance and financial services company. Its subsidiary, The Union Labor Life Insurance Company (Union Labor Life) manages Separate Account J. Ullico's Real Estate Investment Group, which is a part of Union Labor Life, provides overall project management, loan servicing and real estate consulting services.
The Union Labor Life Insurance Company is a member of the Ullico family of companies, which includes Ullico Investment Advisors, Inc.; Ullico Investment Company, Inc.; Ullico Casualty Company; and Ullico Casualty Group Inc.
###