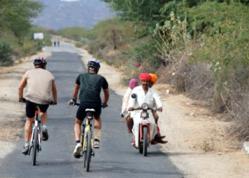 With our new partner tour companies, our clients will be able to experience the beauty and depths of India firsthand, with local guides.
Chattanooga, Tenn. (PRWEB) November 27, 2012
BikeToursDirect is now offering its first bicycle tours in India, furthering a significant expansion of its cycling tours in Asia. There is no better way to see this country than from the seat of a bike saddle, offering cyclists a unique opportunity to feel the true spirit of India. The spicy smells of cardamom and curry; the shy yet friendly villagers collecting water from town wells; the dirt paths snaking through the Himalayas where children skip home from school—these are the experiences best enjoyed by bike.
From the beaches of Gokarna and the backwaters of Kerala to the misty northern mountains of the Himalayas and sun-kissed deserts of Rajasthan, these India bike tours offer a true glimpse into the real India. Most tour dates run December through March, making these trips to India the perfect destination for winter weary cyclists.
"These bike tours will introduce an India to our clients that bypasses the conjured images many people might associate with the country and highlight the natural beauty and wide diversity of the subcontinent," says BikeToursDirect president Jim Johnson. "With our new partner tour companies, our clients will be able to experience the beauty and depths of India firsthand, with local guides."
BikeToursDirect now has eight guided India bike tours, starting at less than $2,000, which feature the wide diversity of geography and people across the expansive subcontinent.
"India is as diverse as any land mass can be — it is a miniature world, a complete planet by itself," says Nutan Thangan, with Khana-badosh India, one of BikeTourDirect's partner operators in India. "Each of its diverse regions has its own charm that has to be experienced to be believed. To a visitor, India is an everlasting journey of discovery; it has something for everybody."
BikeToursDirect now offers the following tours in India:

These India bicycle tours include accommodation, domestic transport, English-speaking guide services, van support, transfers, admissions and other services. Accommodations on the tours range from charming fort-palace hotels and plantation retreats to refurbished village houses. Cycling distances vary per tour and incorporate sightseeing of major historical attractions.
BikeToursDirect will be adding more tours in India and across Asia through the end of 2012. Interested travelers can contact BikeToursDirect at info(at)biketoursdirect.com to be alerted when the new tours are online.
Now in its ninth season, BikeToursDirect represents more than 75 tour companies worldwide and offers 385 bicycle tours in Europe, Asia, Africa, Australia and the Americas. BikeToursDirect doesn't operate tours but instead represents overseas companies that can keep their tour prices down due to the lower cost of doing business closer to home and to spreading their expenses over a large client base. Clients book tours and make all payments through BikeToursDirect, usually at the same prices charged by the tour companies.