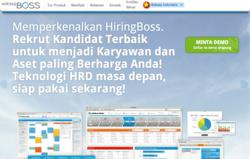 Singapore / Indonesia (PRWEB) November 27, 2012
HiringBoss, Asia's SaaS Human Resources provider, today announce their latest office in Indonesia will be operating from January 2013. This will enable the firm to better meet the demands of the increasing number of corporations throughout Indonesia that are looking to advance their talent acquisition capabilities.
HiringBoss CEO and Founder, Bernie Schiemer commented, "From the very outset, our goal at HiringBoss has been clear: to provide superior global HR solutions that work for Asian businesses, combined with the best of local support and innovation. To this end, Indonesia has been firmly in our sights from day 1. We have been providing our flagship SaaS applicant tracking solution to a number of global clients with offices in Indonesia throughout 2012, so having a physical presence here was the next logical step for us. We are naturally thrilled to announce the opening of our first country office in Q1 of 2013 and I know my team join me in looking forward to bringing the HiringBoss HR Revolution to this promising new territory".
HiringBoss COO, Rolf Bezemer added, "The economy in Indonesia is experiencing staggering year-on-year growth rates and a business's ability to successfully scale their hiring to meet this pace of expansion is fundamental to their success. As such, HR and talent acquisition is a business area that is rapidly professionalizing across the region. By establishing an office here our customers benefit from our increased agility and local proximity, and HiringBoss takes another important step in our expansion across Asia."
HiringBoss CEO and Founder, Bernie Schiemer added, "We have a talented team in place and firing on all cylinders in what is one of the most exciting countries in the world right now. There's no doubt about it, Indonesia is a complex region geographically, comprising of more than 17,500 islands. By establishing Hiring Boss's first Indonesian office in the capital of Jakarta we are positioned to take full advantage of the economic uptrend by bringing our world-class Talent Management solutions to our clients here."
Indonesia is the largest economy in Southeast Asia and is home to the world's 4th largest population of 248 million people*. HiringBoss currently has offices in Singapore, Japan, Vietnam and Hong Kong. The latest Indonesian office comes in addition to a further 7 offices in the pipeline for HiringBoss in 2013, which take in Malaysia, Thailand, China, and Korea, amongst other countries.
About HiringBoss
Launched in 2011, HiringBoss is one of the fastest growing tech start-ups in Asia and a significant new contender in the global arena of HR technology. HiringBoss combines innovative new features, multi-language compatibility, intuitive design and a low entry-level price point. Suitable for businesses of all sizes, we have clients across a range of industries spanning Government, Engineering, Manufacturing and Pharmaceuticals. These include Mitsubishi Fuso, Singapore Tourism Board, Yellow Pages and Canon. With offices currently operating in Singapore, Japan and Vietnam, a further 7 Asian countries are in the pipeline for Q1 and 2 of 2013. We are currently available in 9 Asian languages.
We are currently actively sourcing talented people in Indonesia, Japan, Thailand and Malaysia to become part of the HiringBoss story.
Join Asia's HR Revolution...and get in the cloud with HiringBoss:
-Visit http://www.hiringboss.com for more information.
-Like Us: facebook.com/HiringBoss
-Tweet With Us: @HiringBoss
*Source:Central Intelligence Agency, July 2012.