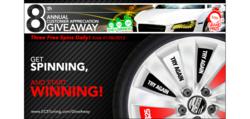 Sign Up! 3 FREE instant chances to win $10, $25, or $50 gift certificates daily until 1/6/13.
Wadsworth, OH (PRWEB) November 27, 2012
ECS Tuning Customer Appreciation Giveaway
Each holiday season for the past eight years, ECS Tuning has thanked its customers with a giveaway of automotive products and prizes. This year, ECS has launched a special customer appreciation event that lasts for seven weeks.
Unlike past years, all prizes in this year's holiday giveaway are electronic gift certificates. It's all free. There is no catch, and participants don't have to buy anything to spin and win. All ECS Tuning registered customers, as well as their friends and family, are invited to participate.
How to Win
Players have three chances each day to spin an alloy Wheel-of-Prizes at the ECS Tuning web site, with a chance to win electronic cash certificates of $10, $25, and $50, redeemable on any product or service at ECS Tuning.
How Often Can You Play?
Players can return the next day, and each and every day of the week--including Saturdays and Sundays--until January 6, 2013. That's 49 days of spin-to-win, with three fresh chances every day.
Who Can Play?
Registered customers simply log in to their account, navigate to the giveaway page, and spin the wheel.
To spread the holiday cheer, new customers or friends can register online and play too. Same deal: Register. Play. Win. No strings. Nothing to buy.
​Enter to Win
http://www.ecstuning.com/GiveAway/
Video - http://www.youtube.com/watch?v=so05VqtqJnY&hd=1
ECS Tuning Customer Appreciation Holiday Sale
The 2012 ECS Tuning Holiday Sale is also in full swing, and better than ever.
This year's sale offers savings up to 30 percent on select ECS Tuning products and ECS Tuning brands: Ziza, Schwaben, Alzor, and Bremmen Parts, plus similar savings on many products from perennial favorites like Forge, RockyMounts?, New South, Fumoto, Whiteline, FK, DICE, Eurojet, and others.
All savings are instant. Sale prices are clearly marked on each item. There are no promo codes to enter or special calculations needed. Holiday Giveaway winners can spend their digital cash prizes on any sale items for added savings.
Taken together, the ECS Tuning Holiday Giveaway and Seasonal Sale Spectacular are our way of saying thank you to our loyal customers, and to welcome new customers to the quality products and services offered all year long by ECS Tuning.
About ECS Tuning
Specializing in both OEM and aftermarket replacement parts and accessories, ECS Tuning combines a unique blend of quality product offerings with an unflagging commitment to customer service.
Contact:
ECS Tuning
1000 Seville Road
Wadsworth,Ohio 44281
Phone: 800.924.5172
http://www.ecstuning.com