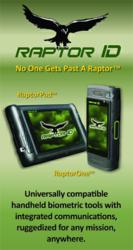 Orangevale, CA (PRWEB) November 27, 2012
Computer Deductions Inc. (CDI), providers of the nationally recognized Consolidated Transaction Management Controller, today announced a strategic partnership with Raptor ID to develop software for Raptor ID's full product suite.
"The CDI Consolidated Transaction Management Controller (CTMC), running on top of the CDI Store and Forward, provides a complete workflow tracking and response management solution. This facilitates the tracking and auditing of live scan workflows, including field level changes, response management and submission to archival storage and coordination of and integration to multiple, disparate ABIS, and Demographic Databases," said Tom Calabro, Vice President of CDI.
"Our CTMC software is a state of the art solution that we want to see tied into state of the art hardware. Since Raptor's handheld biometric tools are the most technologically advanced in the industry, with exceptional processing power, they've proven to be a fantastic platform for us."
Raptor ID offers the RaptorPad™ and the RaptorOne™, COTS biometric screening and enrollment tools, completely ruggedized and fully equipped with integrated communications.
"CDI has been leading the country in design and development of large custom systems such as high volume message switches, large database systems, and the automation of large clerical systems for over 40 years," said Charles Strasburger, CEO of Raptor ID.
"We're thrilled that a company with such a proven history has chosen us as a strategic partner in the law enforcement identification market."
About Computer Deductions Inc.
CDI's experience transcends 42 years of supporting various State of California and other agencies. In particular, CDI as a subcontract to a major Identity Management Company, played an instrumental role in the development, implementation and maintenance of the current California Department of Motor Vehicles (DMV) Drivers License card production database servers, housing over 170 million records with sub-second response times. CDI designed and assisted in the development of many databases at the Department of Justice (DOJ) and totally designed, implemented and maintains the California Law Enforcement Telecommunication System (CLETS) for DOJ. CDI participated in the first Mobile-ID pilot in the State of California achieving DOJ and County of Los Angeles Sheriff's Dept. certification for their hand-held mobile-ID and Booking Software. This mobile ID software was deployed to Major Public Safety agencies around the country, US Department of Defense and others. CDI was a major participant in the design and implementation of the NEC NATMS system for California's Department of Justice, providing for the automation of both the transmission of electronic fingerprint cards, as well as the identification process at DOJ, which ultimately were nationally adopted, becoming the foundation of current EFTS standards in use today.
For more information, please visit http://www.cdi-hq.com
About Raptor Identification Systems, Inc.
Raptor ID was formed in 2009, dedicated to producing universally compatible handheld biometric tools with integrated communications, ruggedized for any mission, anywhere. Raptor has partnered with top cellular communications and biometric industry leaders to develop Commercial Off the Shelf (COTS) products that are state of the art, yet also the most cost effective solutions available. Utilizing a constantly evolving roadmap keeps Raptor's products in sync with the best that the biometric and communications industries have to offer. The full product line uses an open platform so anyone can develop or run any software in Android™, on most any network, without being handcuffed to proprietary technologies. As a COTS provider of equipment, the same per unit pricing is available to everyone. With Raptor ID, it's not just a new and evolving line of products, it's an entirely new way of doing business.
For more information, please visit http://www.raptor-id.com