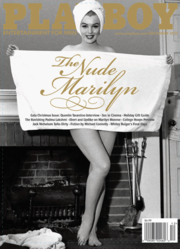 "Although this iconic sex symbol has passed, her legacy lives on as the quintessential Sugar Baby—something many girls aspire to experience."
Los Angeles, CA (PRWEB) November 28, 2012
Christmas came early for Playboy fans—the iconic magazine's newest issue commemorates Marilyn Monroe's 50th Anniversary as its very first cover girl. Included in this historic issue is a feature article appropriately titled, "Sugar On Top," an editorial that delves into the Sugar Baby lifestyle that Marilyn embodied so effortlessly.
Featuring members directly from SeekingArrangement.com, the world's largest Sugar Daddy website with over 1.8 million members, the article aptly sheds light on how individuals with different needs can come together create such strong, satisfying, and lasting relationships.
From a threesome's adventures in and out of the bedroom, to the free Jimmy Choo's and Lilly Pulitzer dresses, the provocatively engaging piece depicts the reality of being a Sugar Daddy and a Sugar Baby from various perspectives—specifically, Jim, his wife Kelly, and their Sugar Baby, Jodie. The feature ultimately reveals the lavish transformation from single and seeking to satisfied and "sugar."
"No one epitomizes the 'sugar' lifestyle more than Marilyn Monroe," says Brandon Wade, CEO and Founder of SeekingArrangement.com. "And although this iconic sex symbol has passed, her legacy lives on as the quintessential Sugar Baby—something many girls aspire to experience."
The magazine, which revealed never-before-seen photos of the timeless beauty, first featured Monroe in 1953 for its premiere issue.
"As a fan of both Playboy and Marilyn Monroe, I am honored that SeekingArrangement.com is now featured in the magazine that inspired me to create the website alongside the woman who represents being a sugar baby at its best," says Wade.
The December 2012 edition of Playboy is currently on sale at newsstands everywhere. For more information about SeekingArrangement.com please visit our website. To schedule an interview with Founder & CEO, Brandon Wade, please contact Leroy Velasquez at 219-789-1548 or e-mail Press(at)SeekingArrangement.com
About SeekingArrangement.com
SeekingArrangement.com is the world's largest sugar daddy dating network, pairing wealthy men with beautiful women seeking mutually beneficial relationships. Since its launch in 2006, the website has amassed over 1.7 million members worldwide. The website has been featured on such outlets as the New York Times, CNN Headline News, Good Morning America, and ABC 20/20. SeekingArrangement.com was founded by self-proclaimed "E-Cupid", Brandon Wade who was anointed "Mr. Sugar Daddy" by the Wall Street Journal. He is also the founder of a number of successful niche dating websites including the number one travel dating website - MissTravel.com, millionaire matchmaker website - SeekingMillionaire.com, and online dating auction website – WhatsYourPrice.com.
About Brandon Wade
Mr. Wade is an MIT graduated and the founder of dating websites SeekingArrangement.com - the leading sugar daddy dating website, SeekingMillionaire.com - a millionaire matchmaking website, WhatsYourPrice.com - where singles bid for first dates, and MissTravel.com - the first travel dating website. His online dating websites have been profiled in the New York Times, Wall Street Journal, GQ Magazine, and he has been featured on such media as Dr. Phil, ABC 20/20, Good Morning America, The Today Show, and Dr. Drew.