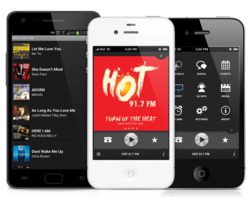 Many online radio stations have begun migrating away from 'all-in-one' radio streaming apps and are on the lookout for customized streaming apps that they can call their own.
Houston, TX (PRWEB) November 28, 2012
Onseeker® introduces tiered packages for its Mobile Radio App that makes engagement with mobile audiences affordable for radio stations of all sizes. Furthermore, new customizable features and revenue generation opportunities extend the value proposition for streaming on mobile devices.
The Onseeker® Mobile Radio App is now available in Basic ($1000/yr includes iOS & Android), Standard ($2500/yr includes iOS & Android) and Premium ($3000/yr includes iOS & Android) versions, each offering high-quality audio streaming, metadata, and audience analytics among standard options. Other significant new enhancements for all tiers include rotating images and push notifications, each with associated scheduling options.
"We realized that many online radio stations needed a basic, simple mobile app package that helps them get their content out to their fans without breaking the bank," said Roy Gonzalez, COO of Onseeker® Technologies." Our ultimate goal is to meet the mobile needs of any radio station, and I think we've achieved that with our tiered pricing options. Even our most basic Radio App blows the competition out of the water in terms of user interface, functionality, and audio quality."
The pricing structures accommodate both iPhone and Android streams; choosing one or the other slashes the cost in half. Importantly, this flexibility stretches across each package in multiple ways. Radio stations can turn features on and off at will, and rearrange icons in order of significance.
Meanwhile, scheduling options ensure that radio stations can firmly establish a "start" and an end" time for rotating images. This allows radio stations to remain consistent with branding and promotions while reducing manual processes for app maintenance. Onseeker® also gives its customers the power to move rotating images in a "tap and slide" manner, seamlessly linking content to upcoming events or notifications in other sections, for example.
"It seems like many online radio stations have begun migrating away from 'all-in-one' radio stream apps and are on the lookout for customized streaming apps that they can call their own. Luckily, Onseeker® Technologies is poised to help those stations shift to a far more personalized solution for mobile devices," mentioned Frank Danna, Communications Director at Onseeker®.
"Our platform for radio stations creates additional opportunities through advertising revenue," continued Frank Danna. "As well as increased fan engagement and high-touch communication strategies that would've been impossible within an 'all-in-one' conglomerate app."
Standard and Premium customers can also explore new revenue opportunities through Quu Interactive technology. The Quu Interactive framework integrates interactive playlists with song, artist and other musical information along with quick links to coupons, featured products and sponsored events. This fuels mobile listeners with instant program-related information while introducing new local advertising resources to stations.
Customers can also select bonus features for the first two tiers (two for Basic, five for Standard). The Premium model incorporates every available Onseeker® feature, with new features automatically added upon availability.
Onseeker® is currently developing even more great bonus features like Fan Zone content and Podcast Archives. These additional components will be out before the 2012 Christmas holidays.
To learn more about Onseeker® Technologies, please visit http://www.onseeker.com. For a full demonstration of the Radio App, contact Roy Gonzalez at 281-664-7953 or visit http://www.onseeker.com/apps-radio-about.html for more details.
About Onseeker® Technologies:
Onseeker® Technologies is one of the largest mobile app developers in the United States. With over 200 apps developed and deployed they continue to provide their clients exceptional apps at remarkable prices. Onseeker® excels in providing platform based apps for radio stations, churches and ministries, authors, sports and restaurants. They also develop custom applications and mobile sites for companies looking to take their content and experiences mobile.
Media Contact:
Frank Danna
281-664-7951
###