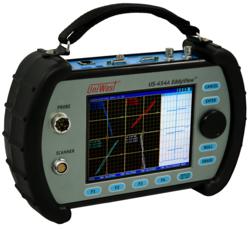 "The 454A's primary advantage is its ability to be integrated into automated systems and it is very user-friendly." stated Mark Gehlen, UniWest President.
(PRWEB) November 27, 2012
UniWest's US-454A Eddy Current Instrument offers single- and multi-frequency Eddy Current (EC) inspection, unprecedented signal-to-noise ratio, frequency mixing capabilities, USB and Ethernet data storage capability, and exceptional digital strip chart data collection. It also features UniWest's EddyView® color display. The 454A's signal to noise ratio redefines NDE inspection in the field, the lab, and wherever high level, accurate eddy current testing is needed. It's unprecedented signal to noise and filtering capabilities allow for inspection in applications outside of the scope of portable eddy current equipment.
The 454A's primary advantage is its ability to be integrated into an automated system. Control of the US-454A with either the USB or Ethernet as well as the dual encoder position input makes it an ideal instrument for systems. The field-proven features of the direct access keys, control knob and large, bright colored display makes it a user-friendly instrument for the entry-level NDT technician to operate.
Designed for optimum system compatibility, UniWest's 454A Portable Eddy Current Test Instrument is being used for diverse markets such as aerospace (engines and airframes), power generation, automotive manufacturing, software, and general eddy current applications. Because the Eddy Current Test Instrument offers encoding and communications capabilities, excellent signal-to-noise ratio, and four frequencies, it is more easily integrated into specialty systems.
The 454A is a lightweight, hand-held, battery-operated instrument that can be connected to a laptop, PC, and motion controllers for use in semi- or fully automated data collection applications--such as surface inspection of aircraft fuselages or measurement of critical engine wear using a 32-element probe. Two encoder inputs enable position stamping of data. Pulse-on position input is ideal for motion control applications, in which mechanical devices move a part past a sensor and mark the location of any detected flaw for further evaluation. Such is the case in testing of critical aircraft engine components. Ethernet and USB capabilities enable instrument control, along with time- and position-stamped data transfer to the computer.
Features of the 454A:

Versatile, configurable to 1, 2, 3 or 4 frequencies
Unprecedented signal-to-noise ratio and filtering capabilities
Frequency Range: 20 Hz to 15 MHz
Bright, 6.5" color LCD flat-panel EddyView® display with 16-bit resolution and external RGB output.
Built on UniWest's rugged 454 architecture
Outstanding digital strip chart recording
Two encoder inputs for position stamping of data
Pulse-on position input for motion control applications
Large, easy-to-see digital impedance display, including time-based image
Storage of up to 250 individual 4-MB data files on a 1-G card
Programmable: stores up to 1,000 test setups
High-speed scanner connection
Video LCD display
Lithium ion rechargeable battery pack, 10.8 Volts, 5400 mAh
Programmable push-button function keys
Weight: 5 lbs. with battery, 4 lbs. without battery
Dimensions: 11.5" long × 7.5" high × 3" deep
To learn more, visit http://www.uniwest.com or call Bryan Leach at UniWest, at 509-544-0720.
Founded in 1985, UniWest is a leader in applications engineering for nondestructive testing. The company designs, manufactures, and services a full line of dependable, robust eddy current and ultrasonic testing products custom-designed to fit each application. UniWest offers solutions to complex inspection problems for OEMs within the aerospace, power generation, automotive, and other industries.