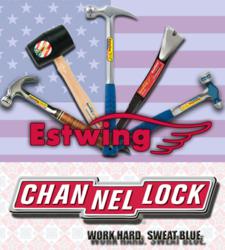 Elma, New York (PRWEB) November 30, 2012
The Made In America Store is presenting a 5 week long promotion where every week a new product will be introduced and given away to a lucky customer. Week 3 brings two all American made tool companies, Estwing and Channellock as part of the giveaway!
The Made In America Store has teamed with the all US made tool companies Estwing and Channellock as part of their Holiday Shopping Giveaway. For five weeks the Made In America Store is giving away all American made products to help lighten the load of holiday shopping.
Looking to start shopping for 100% American made products? Click here to start shopping today at the Made In America Store, where each and every product is 100% US manufactured!
This week (November 25th through December 1st) consumers can win a hammer from Estwing and a pair of pliers from Channellock. Consumers interested can email the Made In America Store at SocialMedia.MIAStore@gmail.com with the subject line "Tools". To be eligible to win, participants need to include their Name, Address and Phone Number.
Estwing is giving away their most famous 22 oz. Framing Hammer as part of the promotion. The Hammer comes with their exclusive Nylon Vinyl Shock Reduction Grip, offering high quality in both comfort and durability, while reducing vibration caused by impact. Also, the Hammers from Estwing are fully polished and forged in one piece, adding to quality.
The Made In America Store carries 12 different tools from Estwing including a 20oz Rip Claw Hammer, a 22oz Framing Hammer, a Curved Claw Hammer with a Leather Grip, a Ball Peen Hammer, a Rubber Mallet, a 3 pound Crack Hammer, a 26 inch Camper's Axe with sheath, a Sportsman's Leather Grip Axe, a Log Splitter Fireside Friend, a Pro-Claw Roofing/Siding 3 in 1 Construction Tool, an 18 inch Gooseneck Wrecking Bar and a Sure Split Wedge!
Looking for some new Estwing Tools to finish your collection? The Made In America Store offers the full line of 100% American manufactured tools.
Channellock is an American tool company located in Meadville, PA that manufactures a wide selection of pliers that sport the signature Channellock CODE BLUE grip on the handles. What puts Channellock above the rest in the market of pliers is that they're 100% US made, unlike most big name companies in the industry. The Made In America Store has noticed Channellock's focus on detail and the importance of being American made, making the tool company a perfect candidate for the all US-made store.
This year, Channellock took the American made commitment one step further by re-launching their CODE BLUE plier line, only this time they are 100% American made. These pliers are made for both professionals and "Do-It-Yourselfers" alike but Channellock has upgraded their signature grips to add more comfort, durability, and best of all, 100% American manufactured.
Prior to the re-launch, Channellock used a manufacture overseas to create the Code Blue grips. With constant searching and a determination to find a cost-effective manufacturer to keep the Channellock Company 'US made', they finally found Evolution Molding right in their hometown of Meadville, Pennsylvania.
Get your CODE BLUE Pliers from Channellock at the Made In America Store website!