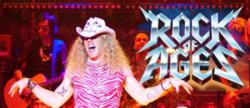 Albuquerque, New Mexico (PRWEB) November 26, 2012
Popejoy Presents in Albuquerque, NM, kicks off its live performance season for 2013 in grand style with the immensely popular worldwide party music 'Rock of Ages' from Jan. 3-6. The worldwide party musical ROCK OF AGES features a mix of 28 rockin' 80s tunes including Don't Stop Believin', We Built this City, The Final Countdown, Wanted Dead or Alive, Here I Go Again, Can't Fight This Feelin' and I Want to Know What Love Is. In 1987 on the Sunset Strip, a small town girl met a big city rocker and in LA's most famous rock club, they fell in love to the greatest songs of the 80s. It's five-time 2009 Tony nominee ROCK OF AGES, an arena-rock love story told through the mind blowing, face-melting hits of Journey, Night Ranger, STYX, Reo Speedwagon, Pat Benatar, Twisted Sister, Poison, Asia, WHITESNAKE and many more. Don't miss this awesomely good time about dreaming big, playing loud and partying on! SantaFe.com, Santa Fe, NM's premier on-line visitor guide, has this event listed on the company's event calendar.
Ticket Info -
Purchase Tickets Online or by phone at (505) 925-5858
Back Balcony: $35
Front Balcony: $50
Mezzanine/Orchestra: $60
About Popejoy Hall:
The premier performing arts center in New Mexico
Seating up to 1985 patrons, Popejoy Hall is the largest such venue in the state. Following a major renovation in 1996 and seating replacement in summer 2007, Popejoy hosts touring Broadway shows, symphony concerts, musical soloists and artists of international caliber, world-renowned ballet and modern dance companies, and noted speakers from a broad spectrum of disciplines.
As the premier Performing Arts Center of New Mexico, Popejoy Hall has played a vital role in the growth of our community's cultural, social and economic life for 45 years! Our mission is to provide access to the performing arts for all New Mexicans.
As a non-profit organization, Popejoy Hall relies strongly on its caring donors so that we may continue to present world-class artists and comprehensive education programs for the entire community to enjoy!
Our Signature Series -
"Popejoy Presents" is our signature series of live performances.
We bring quality events for Albuquerque and all of New Mexico:

Touring Broadway musicals
Exceptional live theater
Dance in many styles, ballet to modern
Music from around the world, classical to jazz to ethnic
Comedy and drama
About SantaFe.com:
SantaFe.com provides locals and visitors to Santa Fe alike the most current interactive platform for events, music, arts, business, dining and lifestyle. SantaFe.com is a division of Hutton Broadcasting, located at 2502 C. Camino Entrada, Santa Fe, NM 87507
Contact Information:
Scott Hutton
SantaFe.com / Hutton Broadcasting
http://www.santafe.com
(505) 471-1067 (Media inquiries only, please)