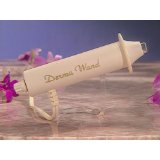 Wayne, PA (PRWEB) November 27, 2012
International Commercial Television, Inc. (OTCQB: ICTL) ("ICTV" or "The Company"), a premier company employing prominently profiled infomercial campaigns to market and brand unique products to the global consumer through multi-channels of distribution, is announcing the following: On November 27, 2012, ICTV has 4 featured airings of its DermaWand Holiday Kit on a major U.S. live home shopping channel.
Derma Wand has four scheduled airings today on a major live home shopping channel as a holiday promotion. Last month, ICTV sold 3,000 kits on this same shopping channel and achieved an on-air sellout of the same sales configuration that is being featured today, which includes a DermaWand, microdermabrasion cream and an apple stem cell cleanser from the DermaVitál skin care line.
Due to the tremendous success of recent DermaWand sales, this same network has set aside January 16, 2013 to make DermaWand the feature product of the day. On July 3, 2012, DermaWand was the feature product on this same network and ICTV sold over 21,000 Derma Wand kits on that day. This network has asked ICTV to reserve 25,000 kits for the January 16th air date. In addition, as part of the DermaWand configuration in January, there will be the worldwide launch of "Skin Quench", the newest item in the DermaVitál skincare line. Skin Quench is a premium quality formulation that has been carefully created to prolong the effects of the Derma Wand by providing instant and superior hydration to the skin, to further aid in the reduction of lines and wrinkles.
CEO, Kelvin Claney, who is responsible for new product development, stated "The launch of Skin Quench as a part of the daily featured item on a major shopping network provides both tremendous validity and brand recognition and we are excited to be able to access this network's continuity sales opportunities."
International Commercial Television is a public company trading on the OTCQB under the symbol ICTL. The OTCQB is a dynamic electronic stock market consisting of SEC fully reporting companies. OTCQB stocks may be electronically traded through most major brokerages such as E- Trade, Scottrade and TDAmeritrade.
FOR FURTHER INFORMATION PLEASE CONTACT: International Commercial Television, Inc. Rich Ransom, Investor Relations 1-484-598-2313 Email Contact: ransom(at)ictvonline(dot)com Website: http://www.ictvonline.com SOURCE: International Commercial Television, Inc.