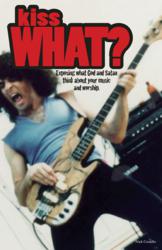 "So much more than just another book about music and song lyrics."
Canandaigua, New York (PRWEB) November 28, 2012
Teenagers who believe in God, attend church and sing to God, "I worship and adore you." If that is true, their lives should be centered around giving honor and glory to God in everything they do. It's beyond singing songs. It's a life of choosing to live the way God desires them to live. There will be some things that are off limits for a worshiper of God. It can hinder their spiritual growth and plant bad seed thoughts into their hearts and minds. Those thoughts can come from the song lyrics of their music, perhaps the most powerful influence in their life. They can hinder a teenager's spiritual growth.
KISS WHAT? challenges teenagers to take a close look at their music listening habits. Having spent nearly 25 years in the secular music industry, Nick knows the power of music to capture the attention of the human heart and then communicate a message to it. Nick says, "Music is a powerful voice fighting for the attention of a teenage heart and mind. It's message can be healthy, wholes, morally good and godly, neutral in it's values or destructive, unhealthy and be a negative influential."
Music can shape the values, beliefs, lifestyle, life outlook and attitude of a listener. Therefore, in KISS WHAT? Nick helps kids grow spiritually, be discerning, learn what God desires for them and how to be a champion worshiper.
KISS WHAT? is a great teaching tool for group youth ministry. A youth pastor or parent can utilize it for weekly devotional studies. KISS WHAT? will help kids learn how to worship with their life. Youth ministry and parenting receive valuable assistance in equipping teenagers to grow spiritually.
View promotional book trailer here.
View chapter summaries here.
Nick Costello is an evangelist, youth communicator, keynote speaker and worship leader. He's a graduate of The Billy Graham North American Institute For Emerging Evangelists. He travels North America telling his life story to people of all ages.