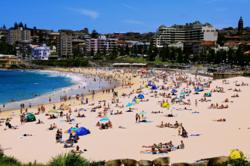 Departures on Boxing Day are about $180 cheaper on average than those before Christmas
(PRWEB) November 28, 2012
Domestic beach getaways, European 'White Christmas' holidays and surprisingly, the Holy Land, have topped ZUJI.com.au's list of Christmas trends for 2012.
Managing Director of ZUJI APAC James Gaskell says more Australians are opting to spend Christmas in Europe compared to last year, with bookings spiking by 69%.
"The strong Australian dollar has once again paid dividends for travellers to Europe. In fact, London was the fastest growing destination for ZUJI.com.au customers, up 100% year on year," says Gaskell, "So timing is key when booking accommodation in London."
"We've also experienced double digit growth across Australia this Christmas. Queensland is leading the way for the nation with visitors to the Sunshine State up 61% on 2011. The Gold Coast, Cairns, Port Macquarie and Whitsundays destinations like Hamilton Island and Magnetic Island are all proving very hot this summer."
Gaskell says this year's biggest surprise was that more and more Australians are returning to where it all began, with flights to Tel Aviv over the Christmas period up 30% on last year.
This year's most popular New Year's Eve spots are London, Los Angeles, Shanghai, Paris and Hong Kong. Shanghai and Paris are by far the biggest gainers on last year with 80% and 55% growth respectively.
ZUJI.COM.AU'S TOP TIPS FOR TRAVELLING THIS CHRISTMAS:

Avoid peak departure dates before Christmas: The last weekend before the big day is by far the most popular time to fly. Quite a few travellers will be eating turkey on the plane, with ZUJI.com.au experiencing a 25% growth in the number of travellers departing on Christmas Day itself. So for cheaper flights it's best to plan your trip early and be mindful of these dates.
Travel after Christmas: Departures on Boxing Day are about $180 cheaper on average than those before Christmas. More and more customers are taking advantage of these cheaper fares and choosing to have a post-Christmas shopping splurge in Singapore, Kuala Lumpur, Bangkok, Hong Kong or Los Angeles.
Travel domestically: There's a reason that Aussies are choosing to spend Christmas in Australia this year, with plenty of great-value beach escapes available in our own backyard. Queensland is back in a big way!
Choose emerging destinations: Beat the crowds and choose a Christmas destination with a difference. ZUJI.com.au has experienced big growth in the number of one-stop destinations in Eastern and Southern Europe. More than 30 cities now fit into this category, thanks to Emirates and Qatar Airways, making access to these exciting locations cheaper and easier than ever before.
Bring the family to you: More Aussies are giving the gift of travel and bringing in family from Europe, USA, South Africa and Asia for a Christmas in the sun saving money on accommodation costs. Traffic into Australia is up 37%.