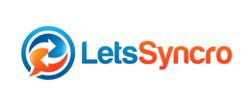 "LetsSyncro provides the live interaction that is needed to sell products online in a way that other chat software doesn't, and does it in an easier, more lightweight way than anyone else."
Tulsa, Ok (PRWEB) November 28, 2012
LetsSyncro releases brand new personal selling technology that provides an innovative interface solution for e-commerce websites. It enables almost any sales representative and customer to interact online in real-time using simple audio and visual tools without having to leave the business' website and without either party downloading anything.
Websites are often relinquished to a position of dispensing information, instead of being an engine for personal contact and sales. LetsSyncro brings an ability to engage in personal selling online and resolves limitations that historically paralyzed online sales in many sectors. The service goes beyond live chat software and co-browsing. It is modernizing the previously impersonal world of online sales, allowing anyone to sell online like they would in the real world. With LetsSyncro's US headquarters in Tulsa, OK, small and large businesses in the Tulsa, OKC, and Dallas/Ft. Worth areas will enjoy additional personal attention from the sales and support team.
"In my own company, I saw a need for an easy to use, employee and customer friendly way for us to interact with our customers online in real-time and be able to do more than just type or talk. Typically, anything that can't be sold through a vending machine is hard to sell online; some kind of additional information transaction is needed. So, to make it easier to sell via the web, we created a way to offer live support, easily show customers other products, and interact on the same images. LetsSyncro provides the live interaction that is needed to sell products online in a way that other chat software doesn't, and does it in an easier, more lightweight way than anyone else." Domingo Obradors, CEO and Founder, LetsSyncro.
Let's face it, the beauty of the web is that it is virtual, but shoppers hesitate to buy many products online because they cannot get the information or personal attention they need. Now, with LetsSyncro's new, easy to use technology, receptionists, store clerks, sales representatives or call centers can efficiently engage in personal sales, live help, detailed customizations, up-selling, and customer assistance. LetsSyncro allows retailers to take an active role in initiating important sales opportunities online like they would if someone walked into their physical store or office, meanwhile completely respecting the privacy of the customer. Learn more and try a live demo at http://www.letssyncro.com
LetsSyncro is an international company that focuses on providing innovative technological e-commerce solutions, specializing in real-time audio and visual communication tools and analytics.