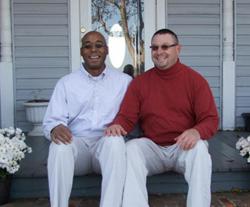 This service is a gift of love to all same-sex couples
Tilghman, MD (PRWEB) November 27, 2012
EnGAYgedWeddings.com, LGBT Community members and Black Walnut Point Inn owners Bob and Tracy are ready to tie the knot with you! This service is a gift of love to all same-sex couples with a Marriage License, and your ceremony is free of charge!
Mass Wedding for Same-Sex Couples in Maryland
Black Walnut Point Inn
Saturday, January 5, 2013, 1pm
All Guests Welcome
RSVP Required By Friday December 21, 2012
Black Walnut Point Inn will be hosting a mass wedding for same sex couples January 5, 2013 at 1pm on the great lawn free of charge. Innkeepers Tracy and Bob invite all same sex couples in Maryland to come make their vows on one of the most uniquely beautiful and private venues on the eastern shore.
As a gay owned & operated business all are welcome!
The grounds include picture opportunities under our heart-shaped trellis, wedding gazebo, back dock or large cross, all surrounded by 330 degrees of miles of water. Photographers will be on hand to take additional photos, crackers and cheese will be provided, and guests are invited to bring their own bottle for champagne toasts.
After the ceremony newlyweds and their guests are welcome to explore the grounds, bird sanctuary trail and enjoy the sunset, weather permitting.
Black Walnut Point Inn will also provide information on additional services for the big day. Tilghman Island itself has several other gay-owned and gay friendly businesses that can provide small cakes, cupcakes, or flowers for bouquets. The Inn will also help couples find lodging for the weekend at the many Inns on the island or in close by St. Michaels.
RSVP by email is required to be included in the event.
Maryland Same-Sex Marriage Licenses
Black Walnut Point Inn will provide information on applying for marriage licenses and picking them up by close of business Friday, January 4th. Talbot County won't be issuing licenses until January 2nd, and then there is a 48 hour waiting period. Here is the link to Talbot County: Same-Sex Marriage Licenses Talbot County, Maryland
All licenses will be signed after the ceremony at Black Walnut Point Inn and mailed to the Talbot County Courthouse Monday morning, as required by law. All couples signed up for the event will leave with a signed Certificate of Marriage.
Tilghman Island - Ceremony Location
Bob and Tracy - Black Point Walnut Inn Owners
EnGAYgedWeddings.com would like to thank our couples and the following photographers who can be viewed on our Gay Wedding Planning Forum :
Same Sex Wedding Photo, Prideful Engagements, Melissa Koren Photography, and Elle Wedding Photography.