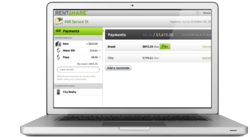 The end goal here is to allow tenants the option to make virtually real time online payments.
New York City, NY (PRWEB) November 27, 2012
RentShare Inc, a startup that makes it easy to pay and collect rent online, has announced a new partnership and a new software release this month. This is the first step in their plan to significantly speed up payments for tenants, as well as for their landlords. These announcements lay the groundwork for RentShare to outperform traditional online bill pay platforms, such as those utilized by major banks. These platforms request that users pay up to eight days before their landlord's actual due date to ensure their rent payments are received on time. This, of course, can be a major deterrent for renters who may not have enough money in the bank to pay their largest monthly expense so far in advance or simply do not want to part with so much money a week before they have to.
"Right now there aren't a lot of options out there for tenants who want to pay rent online," says RentShare co-founder, Ian Halpern. "We built RentShare to give renters a simple solution that goes well beyond the online bill pay platforms offered by banks. However, so far, when it comes to payment speed, we have been on par with our competitors, but that won't be the case for long. We have just begun executing on our plan to be the fastest by far."
This month, RentShare is taking its first step towards faster payments by releasing a "smart delivery estimation engine" which is designed to track and learn individual delivery routes among other systems, to improve its accuracy and speed over time. This means that RentShare's recommended pay-by date will be determined on an individual basis, to ensure their landlord receives the money on time, while not making some tenants pay earlier than they need to.
RentShare also announced their partnership with ZipMark last week. ZipMark allows people to make instant payments via secure e-Check, circumventing the bloated processing time associated with ACH payments. Once ZipMark has been fully integrated with RentShare's new payment infrastructure, tenants eligible to pay with ZipMark could potentially pay rent on the first of the month and know that their landlord will receive same-day verification and actually have the money by the following morning.
"Really, the end goal here is to allow tenants the option to make virtually real time online payments." Halpern continues, "this month we have laid the foundation needed to speed up our behind the scenes delivery processes and circumvent the needless delays caused by an outdated banking system."
A date has not been set for ZipMark integration, but Halpern assures that it will be one of several features being released in 2013 meant to further outperform traditional bill-pay systems.
ABOUT RENTSHARE
RentShare.com provides a flexible platform that makes it easy to pay and collect rent online. Tenants can pay rent with a credit card, debit card or directly from their bank account. RentShare goes one step further for Roommates, allowing them to transparently share expenses and get paid back automatically at the end of each month. Landlords do not have to be directly involved but do have the option to receive payments via direct deposit if they choose to.
RentShare is headquartered in Manhattan and can be contacted at contact(at)rentshare(dot)com.