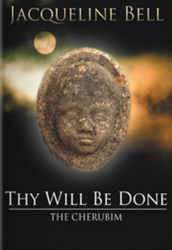 We are all taught from a young age about doing the right thing. Like Snow White eating the bad apple, so many distractions and influences seduce us away from doing the right thing
Victoria, Gozo (PRWEB) November 28, 2012
Avatar, Titanic and Star Wars are three of the five top-grossing films of all time, and they all share two things in common: a dominant theme of good vs. evil and a lasting impact on audiences.
Heroes and heroines in our most beloved stories almost always suffer a tragic flaw that they are constantly battling with to make the right decisions.
What impact do these character flaws have on us, the readers or viewers, as we relate to the protagonist and become attached to the story? Author Jacqueline Bell answers this question in her new fiction adventure, Thy Will Be Done.
In the book, Bell stresses the importance of having faith and courage when overcoming obstacles and challenges.
"We are all taught from a young age about doing the right thing. Like Snow White eating the bad apple, so many distractions and influences seduce us away from doing the right thing," says Bell. "I think that creating a character, relatable to the average reader, who overcomes these influences might be able to help others do the same in their own daily life," Bell adds.
With the characters in her novel, Bell evokes a curiosity from the reader about human struggles with morality, using the concept of angels – traditionally presented as a perfect gauge of right and wrong – living among humans to show the difficulty in making ethical decisions.
In Thy Will Be Done, young Gemini struggles with fate as she follows clues to discover her mysterious past, becoming entangled in the drama of those who surround her along the way. Facing a battle between good and evil forces, the protagonist must realize her flaws in an attempt to make the right choices as she follows her destiny. Will she be triumphant? Or will she fall to her ultimate demise?
Thy Will Be Done
By Jacqueline Bell
ISBN: 978-1-47723-014-5
Available at Amazon, Barnes and Noble, and AuthorHouse online bookstore.
About the author
Jacqueline Bell lives island of Gozo in the Mediterranean with her husband where she continues to pursue her passion for writing. Thy Will Be Done is her debut novel.
####
**FOR IMMEDIATE RELEASE**
EDITORS: For review copies or interview questions, contact:
Dassie Rice
317-602-7137 | drice(at)bohlsengroup(dot)com
(When requesting a review copy, please provide a street address.)