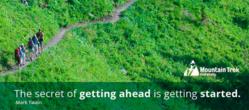 When I tell people about what we offer at Mountain Trek, they are immediately excited but then some lapse into the 'buts,'
Nelson, BC (PRWEB) November 27, 2012
Mountain Trek, North America's only mountain hiking weight-loss resort, has launched the "Hike Your But Off" campaign for its 2013 season. The promotion will address people's concerns about the commitment towards making healthy choices by featuring common excuses such as "But I have so little time" and inspiring responses like "Making time to live well will give you endless energy."
Located at Ainsworth Hot Springs in southern British Columbia, Mountain Trek caters to clients from around the world who want to improve their health and fitness, lose weight and have a great vacation in one of the last untouched mountain wildernesses in North America.
The Hike Your But Off campaign, which will roll out across traditional and social media sites over the next six months, addresses various trepidations people have when considering an intensive, life-altering fitness vacation. Other campaign quotes are "But I'm out of shape" and "But I don't know how to change my habits" have positive responses like "We have a large range of clients – we'll help you get started." and "Education on how to take the retreat home and make it your own are part of our program."
"When I tell people about what we offer at Mountain Trek, they are immediately excited but then some lapse into the 'buts,'" says program director Kirkland Shave. "Common things we hear are, 'But I'm not fit enough,' 'But I don't have the time' and 'But I can't leave my family for the week.' This campaign is intended to bring light to those concerns and then confirm that, in fact, everyone needs to take time and make good choices for their overall health."
Mountain Trek's unique structured program challenges participants with daily mountain hiking, fitness classes and yoga, while providing education tutorials, a delicious, healthy, proven diet, detoxification and de-stressing. The program supports weight loss and the transition to a vital lifestyle, and the comprehensive approach teaches guests how to continue when they return home.
"Our clients are usually high achievers in so many ways, but they lose confidence when it comes to maintaining a healthy lifestyle" says Kirkland. "We help every person feel great and capable, no buts about it."
For more information visit http://www.mountaintrek.com/hike-your-but-off/, contact Kirkland Shave at media@mountaintrek.com or call 1-800-661-5161.