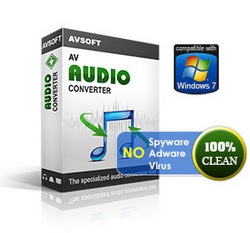 An outstanding audio conversion tool
(PRWEB) November 28, 2012
AV Audio Converter, a brand new product from Audio4fun the media software producer, will be introduced at the end of this month. Audio Converter is designed to replace all of a user's audio conversion tools by providing all the features needed to perform virtually any and all conversions, flawlessly in almost any format, with speed and precision.
AV Audio Converter features a single, easy-to-use interface module, with intuitive controls and an accessible layout.
AV Audio Converter is a state-of-the-art, professional level audio conversion tool that can be used for converting audio files from/to virtually any format, with full control of all output settings, for performing bulk operations including output naming template options, and other functions. It is aimed at a wide market for anyone, from professional to novice, who has audio files.
To celebrate this event, users will initially be offered a 30% discount for the AV Audio Converter. For more information, please visit AV Audio Converter page.