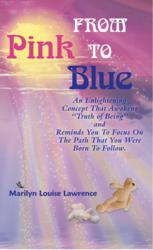 By discovering and recognizing an individual life path in each child, readers can become more fully aware of themselves, their spirituality, their purpose, and support a child's development in this world
Portland, OR (PRWEB) November 28, 2012
A key factor to the development and growth of a child is understanding that each has their own path to follow. By encouraging them to seek their own direction, they will flourish and enhance society in their own ways.
Marilyn Lawrence's latest book, From Pink to Blue, explores the idea that from a young age children are formed into a conventional lifestyle to meet the needs and comfort levels of people around them.
Eventually the child begins doubting their own ideas and choices, ultimately hiding their true self. Losing their individual intended path, they respond and act with socially accepted answers and behavior. Lawrence explains that this act of forcing conformity on them is not intentional, but rather done unknowingly, by adults and older children that are victims themselves.
"By discovering and recognizing an individual life path in each child, readers can become more fully aware of themselves, their spirituality, their purpose, and support a child's development in this world," says Lawrence.
Working to combat the effects of generation after generation of conformity, From Pink to Blue provides the reader with the tools to become aware of their own path and how to awaken it, while also bringing to light the importance of supporting a child's own path from the time they are born.
"If we allow every child to believe in their dreams, then their purpose will never be doubted. If their purpose is never doubted, then achieving their greatest good will happen seamlessly, instead of spending years trying to reconnect with their true selves," Lawrence adds.
From Pink to Blue
By Marilyn Lawrence
ISBN: 978-­‐1-­‐45255-­‐237-­‐8
Available at Amazon, Barnes and Noble, and Balboa Press.
About the author:
Following her lifelong interest in understanding more about the body, mind and spirit, Marilyn Lawrence developed her knowledge through workshops, classes, retreats, and studies. Eventually, Lawrence moved from the attendee position to the instructor of her own classes, retreats and personal readings. Currently, she is working to pursue her passion for writing with several projects in development.
####
**FOR IMMEDIATE RELEASE**
EDITORS: For review copies or interview questions, contact: Dassie Rice
317-­‐602-­‐7137 | drice(at)bohlsengroup(dot)com
(When requesting a review copy, please provide a street address.)