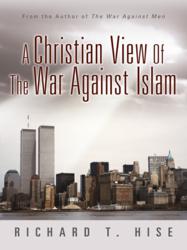 Appeasing Islamic militants will only embolden them in such a way that the very existence of Israel, Western Europe, and the United States will be threatened
Houston, TX (PRWEB) November 28, 2012
Amidst the endless attacks against the U.S. and other countries, have people become immune to threats perpetuated by proponents of radical Islam?
In A Christian View of the War Against Islam, author Richard T. Hise identifies the present dangers from and past atrocities committed by extremists over the last 13 centuries. Referring to biblical passages and historical events pertinent to the unrelenting struggle, Hise outlines the necessary strategies needed to combat the imminent acts of terrorism encouraged by radical activists.
"Appeasing Islamic militants will only embolden them in such a way that the very existence of Israel, Western Europe, and the United States will be threatened," Hise says.
Through 50 years of study and research, Hise summarizes the major tenets of Islam and how they differ from Christianity. In turn, he points to the fact that the answers to this conflict can be found from prophecy in the Bible, where it is revealed how the threats and dangers to society can be eliminated.
A Christian View of the War Against Islam
By Richard Hise
ISBN: 978-1-46271-334-9
Available at Amazon, Barnes & Noble, and CrossBooks online bookstore.
About the author:
Richard Hise, author of The War Against Men, has written over 80 academic articles and seven textbooks. Hise is currently a professor emeritus at Texas A&M University.