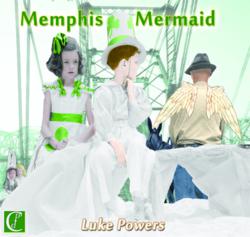 "Memphis is a microcosm of living in the aftermath of the American Dream."
Nashville, TN (PRWEB) November 28, 2012
Luke Powers has a Ph.D. in songwriting—actually English, but he's built an impressive reputation as an original Americana songwriter drawing comparisons to Warren Zevon, John Prine and James McMurtry. Unafraid of eccentricity, Powers writes songs that are both witty and serious—an antidote to the dumb-down age of contemporary American culture.
 
His latest batch of songs takes inspiration from the fabled Bluff City.  Memphis Mermaid (2012) is Powers' fifth solo CD on Phoebe Claire Records and is available on CDBaby.com and I-Tunes. Promotional music videos are available on Youtube.
 
"There's a real mermaid," Powers insists, "though I'm not sure how she ended up in Memphis."
 
The song cycle revolves around all things Memphis—at once home to Elvis, Sun Records and Stax/Volt, but also the city where Martin Luther King, Jr., was assassinated, and Elvis imploded in Graceland.
 
"Memphis is a microcosm," Powers muses, "of living in the aftermath of the American Dream."
 
Once a melting pot of races and musical cultures---blues, R&B, rockabilly, soul—the city now has one of the highest murder rates in the country and suffers from problems of racial division, social inequality and urban blight.
 
"Every musician goes to Memphis in one way or another," Powers emphasizes. "The city has a mythic pull as strong as the river. Some sell a million records, some jump off a bridge."
 
"I've been to Memphis," he adds, "and I saw the mermaid—or one helluva catfish."
 
Miracle or morass? The songs of Memphis Mermaid explore both visions of Memphis and America:
 
--The trainbeat-driven "Trainssong" is a shout-out to Memphis' rockabilly roots.
--"Memphis Belles" contrasts the city's fabled past with a downbeat present: "Drugs, gangs, girls, guns/rape and murder just for fun."
--"West Memphis Arkansas" takes a side-trip to Memphis' sordid sister city (site of the 1993 child slayings and home to "The West Memphis Three").
--"The Last Day of the World (12/21/12)" uses Memphis black plate-glass pyramid to explore Mayan myth.
 
But the CD also has its share of "mermaids":
--The title song is a close encounter of the Mississippi River kind.
--Picasso inspires the "Girl with Mandolin," a meditation on love and art.
--"Jacqueline" is a sensitive portrait of a transgender boy/girl at the edge of puberty.
--"Thank You (Hope It's Not Too Late)" offers a portrait of the artist's own birth and offers belated thanks to his parents.
 
The CD features an all-star band: Chris Leuzinger (Garth Brooks, George Strait) on guitar; Michael Smotherman (Glen Campbell, Roger Miller) on keyboards; Tim Lorsch (Goose Creek Symphony) on mandolin and fiddle; and Tommy Spurlock (Emmylou Harris, Rodney Crowell) on steel guitar. Suzi Ragsdale (Ray Stevens, Guy Clark) sings harmony vocals—offering the mermaid a human voice.
"If the Mayans are right, and the world is going to end," Powers concludes, "I thought I'd go out with a bang."