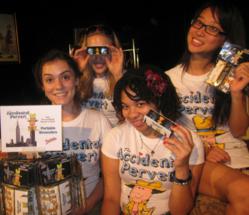 I am very excited for the opportunity to be the only Show in NYC to offer the FanOculars.
New York, NY (PRWEB) November 28, 2012
Long running and highly acclaimed Off-Broadway show, The Accidental Pervert will continue to offer custom-designed FanOculars for sale during show performances. The new agreement includes retail sales of the FanOculars, as well as promotional uses to help market the Show.
FanOculars are custom-made, portable binoculars with images of sports and entertainment trademarks printed directly on the front and back. By customizing the design, an ordinary pair of binoculars is turned into a unique souvenir. For The Accidental Pervert show, FanOculars, LLC produced an exciting design that features images of the 'pervert caricature' in many comical poses.
Star Andrew Goffman, creator/actor of the show, first offered the FanOculars for sale back in June 2012. "I am very excited for the opportunity to be the only Show in NYC to offer the FanOculars. Fans have really enjoyed them. I look forward to incorporating them into our promotional activities as well", says Andrew.
The new agreement runs through 2013 and includes many marketing and promotional applications. "We enjoy working with The Accidental Pervert team because of their creative and innovative approach to meeting the demands of their fans. The FanOculars sales have exceeded our expectations and I look forward to another twelve months with Andrew and his team", says David Ballou, president of FanOculars, LLC.
The new agreement begins immediately. The two companies are looking at an updated design for the FanOculars and will create new product displays and signage for the retail operations.
--------------------------------------------------------
The Accidental Pervert is a laugh-filled hit show currently at the 13th Street Repertory Company in New York City. For three years, star Andrew Goffman has been charming sold out crowds with the story of how he found his Dad's stash of adult videotapes when he was 11 years old. He takes the audience on a comic journey about how he stopped looking at the world through porn-influenced eyes to become a loving husband and father. The play is also a huge success in Buenos Aires starring the popular Argentine comic Cabito.
FanOculars, LLC is the company that manufactures, markets and distributes the FanOculars brand to well know sports and entertainment entities. Current clients include: Jacksonville Jaguars, ESPN, Chicagoland Speedway (NASCAR) and Major League Lacrosse. Website: http://www.FanOculars.com