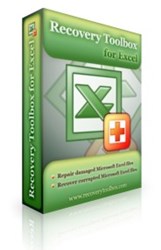 Recovery Toolbox for Excel is a powerful data recovery service for MS Excel files, supporting all available formats.
Alexandria, VA (PRWEB) November 30, 2012
Friendly interface of Excel repair solution permits recovering corresponding documents in several mouse clicks. The absence of additional settings makes it faster and easier for anyone therefore it does not really matter which person is engaged in the recovery of MS Excel documents. This approach to Excel repair is different from other data recovery services and guarantees the safety of all XLS repair activities, Recovery Toolbox for Excel always works with copies of input information and does not change XLS documents in use.
Visit the website of Recovery Toolbox for Excel to check what our customers say about the service of Excel repair, provided by this application. According to the opinion of our clients, this program works in the most serious instances of data corruption and fixes the structure of XLS files after the occurrence of virus incidents, file system issues and other problems, affecting Microsoft Excel documents and, maybe, some other information.
Recovery Toolbox for Excel analyzes all available versions of MS Excel application, it works on any computer running MS Windows: 98/2000/NT/7/8 and previews the results of analysis for free. In this mode users check the status of input workbook and get to know whether this information can be used in a clean file of corresponding format or it is completely lost without any chance of MS Excel recovery. Read more about Recovery Toolbox for Excel usage.
Recovery Toolbox distributes Excel repair solutions and other data recovery tools and services for more than ten years. For this period it released approximately twenty file repair applications, well known for their ease and safety. The legal address of Recovery Toolbox is: 901 N. Pitt str. Suite 325, Alexandria, VA 22314, United States of America
Software description http://www.excel.recoverytoolbox.com/
Product site http://www.excel.recoverytoolbox.com/