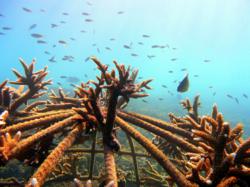 KOH SAMUI, THAILAND (PRWEB UK) 28 November 2012
Pure Blue Foundation has launched a pioneering reef regeneration programme on Hanuman Bay just 50 metres from the shore at AKARYN Samui Resort and Spa. This is the first project undertaken by The Pure Blue Foundation at AKARYN Resort and Spa.
At the same time the Foundation is also busily preparing for its annual December fund raising evening at Aleenta Phuket–Phang Nga Resort and Spa to continue its turtle conservation work of the endangered Leatherback species.
During August 2012 the Pure Blue Foundation successfully planted 12 new structures among the reef at AKARYN which will attract and develop new coral species – with an aimed increase of 13 to 24 - as well as more types of tropical fish. This is part of a process that started last month with the preparation of the seabed.
AKARYN has enlisted the expertise of two highly experienced marine biologists Mr Sebastien Stradal and Mr Gabriel Bidawid. The pair will spend initially two weeks at AKARYN and take charge of the planting of the module structures and putting in place all development plans in an area 50-metres from the sandy beach of Hanuman Bay – a 400-metre stretch protected by granite outcrops.
The initiative is the latest activity by the ground breaking marine environment group, founded by Akaryn Hospitality Management Services (AHMS) managing director, Anchalika Kijkanakorn, which owns and operates both AKARYN and Aleenta Phuket-Phang Nga Resort and Spa.
"We are thrilled to be bringing our marine conservation work to Koh Samui having worked in Phang Nga for the last few years," said Ms. Kijkanakorn. "It is an ideal location outside our new resort, which comprises of 52 suites and villas in a very private, tranquil location.
"We feel a deep responsibility to all the destinations in which we operate resorts and this is the latest in a long-term commitment we have made to not only preserving the environment but to nurturing its development for generations to come."
On December 1, Aleenta Phuket-Phang Nga Resort and Spa will launch its latest fundraising activity to generate funds for its turtle conservation project in an evening soiree at its location on Natai Beach at which the latest batch of turtles will be released into the Andaman Sea.
Over the last two years, Pure Blue Foundation has raised THB600,000 – releasing over 100 turtles into the wild – and will require about the same amount this year to successfully continue its programme that has now been extended to Koh Samui.
The event will feature a surprise guest DJ flown in from Europe as well as a host of interactive culinary demonstrations highlighted by a chocolate theme and liquid nitrogen preparation as well as dance and body painting performances.
For more information the fundraising event on December 1, at which tickets will be sold for THB2,222, including an open bar and a chocolate decadence culinary experience, please contact Yann Gouriou at Aleenta Phuket-Phang Nga Resort and Spa.