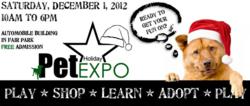 Dog owners continue to be responsible for how others interact with their dogs.
Falmouth, MA. (PRWEB) November 29, 2012
Melissa Berryman of The Dog Owner Education and Community Safety Council will be on hand to teach dog owners how to best protect their liability at the Holiday Pet Expo at Fair Park Automobile Building December 1st from 10-6 PM.
Berryman formed The Dog Owner Education and Community Safety Council to change the culture where dog owners let even strangers be in charge of their liability risk. She also works with people and communities to encourage action in preventing injuries she categorizes as highly avoidable.
"We have elevated the status of dogs to full fledged family members forgetting dogs are not people. They don't think like people, don't react to certain stimuli, or use their senses in the same way. Our culture has not embraced this information which leads to trouble for dog owners," says Melissa Berryman, author of "People Training for Good Dogs" http://www.ptfgd.com, and founder of the nonprofit preventive training organization, Dog Owner Education and Community Safety Council. "Dog Owners expect their dogs not to react to how anyone treats them-something we don't even expect of ourselves."
Berryman, a national dog bite consultant who has spent years working with animal organizations, dog owners and dog bite victims, says she's dismayed by the erroneous advice she continues to hear even from experts: That when a dog is properly trained to behave a certain way, it can be relied upon to react predictably in any situation.
"Training is very important but not everything. Dogs have limitations as animals that should be respected. When a dog snaps at a child trying to hug it, society says the dog is bad," Berryman says. "The dog is not bad! It's simply responding to what it perceives to be dominating behavior. Yet advise someone why they should take down a posted photo of their child hugging the family dog and I'm met with a lot of resistance. We have to be smarter about how our dogs cope with our lifestyles and what we allow others to do to our dogs."
Berryman offers some tips:

Avoid hugging any dog. Dogs don't hug. They grab and hold other dogs only when they want to demonstrate rank.
ASK the Dog. Dogs prefer to be asked before they are patted. By tapping the side of your leg and greeting in a high-pitched voice, a dog knows you are friend and can decide if it wishes interaction.
Dogs have superior/subordinate not equal relationships. Dogs are bossy and competitive. Dogs would never equally divide a chunk of meat. Nothing is freely given in the dog's world. Status and resources are gained through rank.
Berryman will be speaking on the main stage and demonstrating safe interactions in the activity ring at the Holiday Pet Expo.