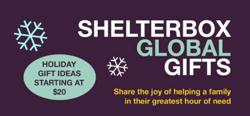 Sarasota, Florida (PRWEB) November 27, 2012
Today, international disaster relief organization, ShelterBox USA, joins hundreds of other charities, businesses, families and individuals in an effort to transform the way people think about, talk about and participate in the giving season.
Nov. 27 marks the first #GivingTuesday, a national movement to create a day dedicated to giving during the holiday season, similar to the way Black Friday and Cyber Monday are synonymous with holiday shopping.
ShelterBox, which responds to natural and other disasters worldwide by providing boxes of aid and emergency supplies to families in need, is encouraging shoppers to get involved by giving gifts that matter during #GivingTuesday and throughout the holiday season.
The charity has launched its alternative gift program—ShelterBox Global Gifts. Each gift is a tax-deductible donation that can be made in honor of a friend, loved one, colleague or client to support the organization's efforts to provide shelter, warmth and dignity to families affected by disasters around the globe.
During the holiday season, shoppers can give gifts that honor their friends and family, make a difference, and provide hope to families that struggle to rebuild their lives in the aftermath of a disaster.
For example, the ShelterBox Global Gift, "Protection from Disease" for a donation of $35, allows ShelterBox to send mosquito nets to areas of the world where malaria and other mosquito-borne diseases are prevalent. Each net is treated to keep mosquitoes away, providing families with a safe place to sleep.
A variety of other ShelterBox Global Gifts are available online at http://www.shelterboxusa.org/globalgifts or by calling 1-941-907-6036 between 8:30 a.m. and 5 p.m. Monday through Friday.
ABOUT SHELTERBOX USA
Since 2000, ShelterBox has provided shelter, warmth and dignity following more than 200 disasters in over 85 countries. ShelterBox instantly responds to earthquake, volcano, flood, hurricane, cyclone, tsunami or conflict by delivering boxes of aid. Each iconic green ShelterBox contains a disaster relief tent for an extended family, stove, blankets and water filtration system, among other tools for survival. ShelterBox's American affiliate, ShelterBox USA is headquartered in Sarasota, Fla. Individual tax-deductible donations to ShelterBox USA can be made at http://www.shelterboxusa.org, 941- 907-6036, or via text message by sending SHELTER to 20222 for a one-time $10 donation.
ABOUT #GIVINGTUESDAY
#GivingTuesday is a national movement to create a day during the holiday season that is dedicated to giving, similar to how Black Friday and Cyber Monday have become synonymous with holiday shopping. This first-of-its-kind effort harnesses the power of charities, families, businesses and individuals, to transform how people think about, talk about and participate in the giving season. #GivingTuesday will inspire people to take action to improve their local communities, give back in better, smarter ways to charities and causes, and help create a better world.
To learn more about #GivingTuesday participants and activities or to join the celebration of giving, please visit: http://www.givingtuesday.org, http://www.facebook.com/GivingTuesday, http://www.twitter.com/GivingTues
# # #