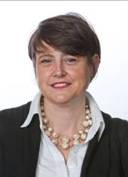 Lyon, FRANCE (PRWEB) November 28, 2012
Véronique FOUTEL joins MAPI as Managing Director of JNB Développement, the Group Company specializing in Market Access. In her new capacity, Véronique will also become a member of the Leadership Team of the MAPI Group. One of Véronique's many strengths is her unique expertise in assessing and profiling new therapeutic offers with a view to bringing them to the market successfully and sustainably.
Most recently, Véronique held a series of strategic and operational posts in the market access field with the Roche Group in France and Canada, and became the "New Product Pricing Head" of the Pharma Division in Switzerland. Previous positions were with the French AFSSAPS and with the Public Health Ministry. Véronique's unique experience in successfully leading, developing and implementing drug market access and pricing strategies and policies both at the local and global level across various therapeutic areas will benefit MAPI and will allow JNBD to pursue its national and international development while offering to clients innovative solutions that truly meet their needs.
About MAPI
MAPI is a leading global organization, offering evaluation and support of therapeutic strategies. With offices worldwide, MAPI provides high quality and efficient operations to help our clients secure product approval, reimbursement and meet the needs of patients, physicians, regulatory authorities and health care technology purchasers.