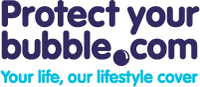 (PRWEB UK) 28 November 2012
An iPhone is a significant investment and deserves protection. Cases to protect an iPhone and add some pizazz just make sense say the experts at Protect Your Bubble. Here's a list of the top cases in no particular order:
1. HardCandy ShockDrop - This case may make an iPhone appear like a piece of military hardware - tough, rugged and durable. Six millimeters of silicon and added protection on the corners beef this case up. It also has a replaceable screen cover in case it gets damaged while protecting the iPhone screen.
2. Scoscehe. The rawHIDE g6 - Real leather over a poly carbonate case. A screen over is also on the way. There is also the Scosche kickBACK sport g6 - A sports cover with a kickstand on the back and polycarbonate with a rubber grip surface. The camera hole is a bit larger than on some cases. Leaves all the ports open.
3. Griffin offers a variety of cases to suits different needs. The Survivor - This case protects the phone from rain as well as the other incidentals like dust, sand and shock. Screen protector, belt clip and hinged dock plugs show Griffin is maintaining its status as a serious defender. It comes in a wide variety of colours. The Griffin Protector offers less protection than the Survivor, but is less bulky too. It also comes in fewer colours than its tougher big brother. Added silicon at the corners and a matte finish for a secure grip also keep this one cheaper than the Survivor. The Griffin Reveal is more of a wrap-around and not a complete case. In eight colours, this rubberized edge provides the least protection of the Griffin devices. The Griffin Animal Parade - An offering of silicon covers shaped to be a tiger or a koala. Ports are open and the screen remains bare. Also available is an elephant and a monkey case which is listed as a KaZoo instead of Animal.
4. Proporta Case - Made from faux leather and styled like a wallet, this case flips open to access the iPhone. The sides are exposed, allowing access to the buttons. It does have a camera lens opening.
5. Piel Frama iMagnum2 - Topping this list as the most expensive is the handmade leather case manufactured in Spain. It folds over, like a wallet, with magnets keeping it closed. The folder also has space for credit cards, driver's license and other stuff people might normally keep in a wallet. The Piel Frama iMagnum2 case also comes in numerous colours and with a belt clip.
No matter how an iPhone is protected it can still be damaged, lost or stolen. Gadget insurance from Protect Your Bubble can give peace of mind and starts from just £1.49 a month. Get an instant quote and full terms and conditions at uk.protectyourbubble.com
About Protect your bubble UK
Backed by a Fortune 500 company, Protect your bubble is the UK's largest specialist gadget insurer that also offers a wide range of insurance products including car insurance, car hire excess insurance, home insurance and pet insurance; all at wallet-friendly prices.
Related Links:
iPhone Insurance - uk.protectyourbubble.com/ip-iphone-insurance.html
iPad Insurance - uk.protectyourbubble.com/ipad-insurance.html
Gadget Insurance - uk.protectyourbubble.com/gadget-insurance/
Find Us On:
Facebook: facebook.com/ProtectYourBubble
Twitter: twitter.com/protectyrbubble
YouTube: youtube.com/user/protectyourbubble