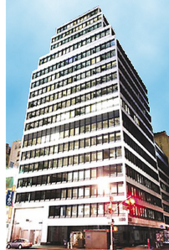 We are already experiencing modest demand (at 1180 AoA) because of the great location, amenities and ability to quickly downsize or upsize
New York, NY (PRWEB) November 29, 2012
Corporate Suites, one of the leading providers of Office Space in New York City, is opening a new location at 1180 Avenue of the Americas on 46th Street, on the 8th floor, in the Times Square and Rockefeller Center sub-markets in New York. The new center joins Corporate Suites' 7 other Manhattan office space locations.
The new business center will offer turn-key business amenities including reception, kitchen, conference rooms, telephone and internet, as a temporary or permanent solution for businesses of all size and budget. In addition to office space for lease and temporary offices, the Corporate Suites 1180 Avenue of the Americas business center offers New York City virtual offices and conference rooms. It is scheduled to open January 2013
1180 Avenue of the Americas is centrally located within the Times Square, Rockefeller Center and Jewelry Way/Diamond District in Manhattan. The Class A building has a prestigious tenant roster in media, entertainment and insurance and is also surrounded by headquarters of many banks, newspaper, music and television conglomerates, and major law firms, as well as many world renowned restaurants, parking garages, cafes and hotels.
"The majority of our current clients in New York work in these fields, and we are already experiencing modest demand for office space from clients and brokers because of the great location, amenities and ability to quickly downsize or upsize as the business environment in Manhattan changes" says Hayim Grant, president of Corporate Suites."There are no capital costs, low security requirements, and everything is included – furniture, utilities, meeting room access, reception area, professional staff and business amenities such as advanced telephony and broadband internet"
"We're expecting an exciting 2013 at the most exciting business district in the world, and we hope you choose to rent office space in New York City with Corporate Suites at 1180 Avenue of the Americas." says Hayim Grant, president of Corporate Suites.
About Corporate Suites: Corporate Suites is one of the largest serviced office space providers in New York City. With over a decade of experience managing hundreds of executive office suites for thousands of satisfied clients, we will provide and professionally manage the perfect office solution for your business. Find more detailed information at http://www.corporatesuites.com/.