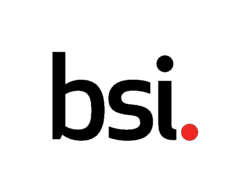 Toronto, Ontario (PRWEB) November 28, 2012
BSI Group Canada Inc., a division of the world's first National Standards Body and a founding member of the International Organization of Standardization (ISO), has announced the top ten nominees for its 2012 BSI Award of Excellence.
"Business excellence is something that all Canadian companies should strive for and it is clear by this year's nominees that the leading companies in Canada are doing just that," said Gary Robinson, Commercial Director, BSI Canada. "We are pleased that this year's nominees come from across the country and operate in a wide range of industries because it shows that Canadian businesses are investing in excellence from coast to coast."
The Award of Excellence program was created in 2011 to annually recognize a leading Canadian company that excels in the implementation of international business standards. The inaugural Award of Excellence was given to Neptec Design Group Inc., a Canadian aerospace design company based in Ottawa. The company was recognized for the successful and continually improving implementation of their ISO Quality Management system, which has propelled the firm into global success and recognition.
This year's nominees range from Canadian tech giants to chemical producers who all have one thing in common – they are committed to excellence in their industries and have raised the bar for their competition.
This year's nominees include:

Provance Technologies, Gatineau, Quebec
MIP, Montreal, Quebec
Canmet EMERGY Ottawa Research Centre, Natural Resources Canada, Ottawa, Ontario
Babcock Canada Inc., Ottawa, Ontario
Redline Communications Inc., Markham, Ontario
Brenntag Canada, Toronto, Ontario
Research In Motion,Waterloo, Ontario
Bantrel Co., Calgary, Alberta
Klohn Crippen Berger Ltd, Vancouver, B.C.
Ledalite Architectural Products,Vancouver, B.C.
Acme Analytical Laboratories Ltd., Smithers, B.C.
The BSI Canada Awards Committee is currently reviewing nominations and the Award of Excellence winner will be announced in the coming weeks.
About BSI
BSI (British Standards Institution) is a global organization that equips businesses with the necessary solutions to turn standards of best practice into habits of excellence. Formed in 1901, BSI was the world's first National Standards Body and a founding member of the International Organization of Standardization (ISO). Over a century later it continues to facilitate business improvement across the globe by helping its clients drive performance, reduce risk and grow sustainably through the adoption of international management systems standards, many of which BSI originated. Famed for its marks of excellence including the instantly recognisable Kitemark®, BSI's influence spans multiple sectors including aerospace, construction, energy, engineering, finance, healthcare, IT and retail. With over 64,000 clients in 147 countries, BSI is an organization whose standards inspire excellence across the globe.
To learn more, please visit http://www.bsigroup.ca
-30-
Global Leaders In ISO Training and ISO Certification
ISO 9001 ISO 14001 ISO 27001 ISO 13485 ISO 16949 ISO 50001
For media inquiries contact:
Brown & Cohen Communications & Public Affairs Inc. 416-484-1132
Kaitlynn Dodge ext. 5 kaitlynn(at)brown-cohen(dot)com or
Wendy Kauffman ext. 3 wendy(at)brown-cohen(dot)com