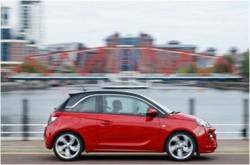 (PRWEB UK) 27 November 2012
The Adam is Vauxhall's answer to the success of design-led small cars such as the BMW Mini, Fiat 500 and Audi A1.
Conventional motor industry wisdom says that small cars mean small profits but the manufacturers think they've found a way around that with stylish design and long options lists designed to tempt customers to spend lots of extra cash – now the Adam joins the trend.
More to the point, stylish small cars that can be personalised also fit the trend for 'downsizing' among company car drivers, who want to lower their company car tax with reduced CO2 emissions without sacrificing anything on specification – or visual impact.
Vauxhall's new baby scores on that point. The Adam has distinctive looks and probably offers a wider range of personalisation options than just about any other car on the market. Underneath those sharp new clothes, though, the Adam is a bit less exotic; lots of the bits they can't see are shared with the big-selling Corsa.
The Adam has already caused a bit of a stir – not least thanks to its unusual name. But is it an interesting proposition for the business motorist?
What's hot?
•Stylish exterior design that marks a big departure from Vauxhall's traditionally rather conservative efforts. In photos, the Adam can look a bit derivative, as if it has borrowed elements from the Fiat 500 and Audi A1, as well as Vauxhall's own Insignia. But in the metal, the different aspects of the Adam's exterior gel well to form a harmonious whole that should be one of the Adam's best selling points.
•The interior maintains the high standard set by the exterior. Design, materials and fit and finish are all top notch, and are quite a bit more exciting on the eye than traditional Vauxhall cabin fare.
•Three petrol engines are offered, all variants of familiar Vauxhall power plants – a 70 PS 1.2 and two 1.4s with 87 or 100 PS. All are available with or without stop/start technology. With stop/start, the 1.2 achieves 56.5 mpg and 118g/km. The 1.4s both score 55.4 mpg and 119g/km. All three Adam petrol engines provide the same company car tax banding: 14% in 2012/13 tax year.
•Three trim levels are available – in ascending order they are Jam, Glam and Slam. Jam models start at £11,255; that's not notably cheap, but even this base model gets important goodies that would cost a lot of extra cash elsewhere, such as alloys, air-con and DAB radio, and the price gradient through the range isn't particularly steep. The range-topping Slam starts at £13,150 and tops out at £14,295 – before they get into those all-important personalisation options, that is.
•And the personalisation options are what makes the Adam different; a wide range of vivid paint choices, the option to choose a contrasting roof colour, and a huge choice of wheels and exterior trims mean that no two Adams should be the same. And that's just the exterior; inside, buyers can even go for a £325 "sky at night" style roof-lining made up of dozens of tiny LEDs – a feature that is otherwise only available in a Rolls Royce. Most of these options represent quite good value for money; the Intellink system for example, which integrates their smartphone into the car's systems to provide satnav and apps such as Facebook, Twitter and Internet radio via the in-dash screen, costs £275.
What's not?
•Early left-hand drive cars tested by journalists were safe rather than exciting to drive. That won't be a problem for most of the buyers attracted to the Adam by its appealing design, quality and personalisation options but Vauxhall's chassis expert Gerry Baker is being brought in to tweak the steering for the UK, That means the first cars that arrive here early next year may provide a sharper drive.
•The initial Adam engine line-up is also adequate but unexciting. The absence of diesel options isn't too much of a problem as the appeal of small diesels for business users is on the wane but there's nothing to match competitor engines such as the characterful and clever Fiat TwinAir and Ford 1.0-litre EcoBoost. A more economical and effective turbocharged three-cylinder will arrive within a year or two, though, along with a six-speed gearbox.
•Space for rear-seat passengers and for luggage is a bit limited but that's also true of the Adam's main rivals – and the occupants of the front seats are very well looked after.
•In most departments, the Adam is able to match or better the appeal of the competition but it inevitably lacks the instant cachet enjoyed by retro designs such as the BMW MINI and Fiat 500, which can tap in to the decades of goodwill and affection generated by their famous predecessors. It's also at a bit of a badge-based disadvantage against premium brand Audi's A1. Business Car Manager road test verdict
With the Adam, Vauxhall has come up with a car that for the most part has the appeal to mix it in a company car comparison with established favourites such as the Fiat 500 and BMW MINI.
A huge amount of work has gone into providing a wide range of appealing personalisation options, and the cabin is classier than those of many more expensive cars. For most buyers, that will outweigh drawbacks such as the Adam's limited space in the rear or its lack of sparkle as a driving machine
The Adam's direct initial impact on the company car market will be comparatively limited. Total sales levels are expected to be far lower than those for the Corsa and Vauxhall reckons that retail sales will account for about an 80 per cent share of the total.
The main effect on business motorists may be a more subtle one.
The Adam is just one of a series of niche models that Vauxhall is bringing to the market in order to boost its image; if, along with the Mokka, Ampera and Cascada, it can succeed in investing the griffin badge with a bit more magic, drivers of mainstream business favourites such as the Astra and the Insignia will have a lot more cachet in the company car park in future.
Vauxhall Adam 1.4i 16v VVT Jam 87PS ecoFLEX Start/Stop – the low down
P11D Value £ 11,820
Monthly business rental (ex VAT) From £221 a month (3yrs/30,000 miles)
Company car tax bands 2012/13 to 2014/15 14%, 15%, 16%
BIK tax £1,655, £1,773, £1,891
Engine 1.4-litre four-cylinder petrol
CO2 119g/km
Power/torque 87 PS/130 Nm
0-62mph 12.5 seconds/110mph
Economy 55.4mpg
Business Car Manager has a variety of useful guides including business car lease, business car profiles and detailed reviews including SEAT reviews among others.
For more information, visit Business car Manager at http://www.businesscarmanager.co.uk/.