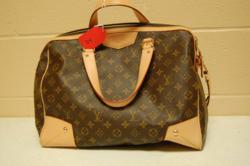 "We are thrilled to be working on this auction and attempting to help return as much money possible to the victim", said Michael Hoffman, Auctioneer.
New Albany, OH (PRWEB) November 28, 2012
On-line auction will feature items from high-end designers Louis Vuitton, Prada, Jimmy Choo, Dolce & Gabbana, Coach, Uggs, Burberry, Ralph Lauren, Pottery Barn and more.
Interested bidders can bid online at http://www.spiffyauctions.com. The online auction will run until December 12th.
Michael Hoffman, one of the premier auctioneers in Ohio, estimates the retail value of these barely used items at close to $100,000. Many of the items still have the tags and packing materials in them. The net proceeds will go to the victim in the police case.
Personal on-site inspection will be on Saturday, December 8th from 11AM to 1PM at the New Albany Police Department located at 50 Village Hall Rd, New Albany, OH 43054. Winning bidders may pick up their items on December 13th between 4-6PM at the police department. If items require shipping, the auction company intends to have them sent out in time for the holidays.
Video from WBNS Channel 10 News story in Columbus, OH can be found here: http://www.10tv.com/content/stories/2012/11/19/new-albany-auction-with-designer-stolen-merchandise.html
About Michael Hoffman, Auctioneer:
Hoffman is the CEO of Michael Hoffman, Auctioneer. The company specializes in the sale of premier assets and real estate at auction. Hoffman serves on the Board of Directors for the Ohio Auctioneers Association and has earned the prestigious CAI designation from the National Auctioneers Association.
Additional information pertaining to the seized assets auction is available by contacting Michael Hoffman, CAI, at (614) 314-0298 or by visiting http://www.spiffyauctions.com.