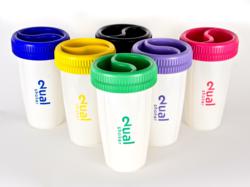 Your fresh drink comes with you wherever you go...
San Francisco, CA (PRWEB) November 29, 2012
Dual Shaker™ is a design made by a technology that offers a new system of mixing drinks by shaking ingredients from a single bottle. The bottle has two chambers where the ingredients for a drink or formula can be stored.
Dual Shaker™ is a hot and fresh California design developed by young entrepreneurs and was constructed through German-engineered technology. It gives all of the benefits other fitness bottle shakers offers, and so much more. First, mix fresh and tasteful drinks the easiest way, anytime and anywhere. Second, the design actually prevents leakages that make a terrible mess. And last, this fitness bottle shaker keeps all the power of the ingredients.
The bottle is also very easy to use. Just twist the lid counterclockwise all the way. Put in the powdered ingredient (i.e. powdered protein mix) in the smaller chamber and the liquid ingredient (i.e. milk) in the bigger chamber. Close the lid clockwise all the way and ingredients are safely stored until they are ready for mixing. This means that a Dual Shaker™ user can store the ingredients of an energy drink, toss it in the bag, hit the gym, and not worry about leaking or premature mixing of ingredients.
When the ingredients are ready for mixing, just twist the lid counterclockwise up to half level only. Shake the bottle for at least 1 minute (or until the powdered ingredient is completely dissolved in the liquid ingredient). Make sure there is a good grip on the bottle while shaking. After which, twist the lid clockwise all the way and it's done. Have a fresh drink anytime, anywhere. Moreover, the good taste of the freshly mixed drinks is a great bonus feature.
In addition to the dynamic features of the Dual Shaker™, there are many other uses of this fitness bottle shaker. Make Fitness Shakes such as protein drinks, BCAA, amino, creatine, etc. Make Nutrition Drinks, such as multi vitamin drinks, mineral drinks, and so on. Make Diet Shakes, such as low carbohydrate drinks and meal replacement drinks. Make Infant Formula, such as milk and supplementary drinks. Make Instant Drinks, such as ice tea, ice coffee, frappe, chocolate drink, and many more. Use the bottle for preparing food, such as cereals, pancake batter, French toast mix, lump-free gravy, sauces and marinades, omelets and egg dishes, scrambled eggs, salad dressings, and so on. These are just some of the great ways on how to use the two chambers of this reliable fitness bottle shaker.
Aside from Dual Shaker's™ usability, it's time to showcase its flexibility. Mix drinks at the gym, during a game, while working, while watching a favorite show, before sleeping, before eating – practically anytime, anywhere. Dual Shaker's™ is fun, easy to use and it looks great too!
Dual Shaker™ will be launched at Kickstarter.com on 12/12/12 (December 12, 2012) and will have an EARLY BIRD SPECIAL for the Kickstarter community where the Dual Shaker™ bottle will be offered for only $10. The retail price for the Dual Shaker™ bottle is $15. Follow the product release at Facebook or Twitter. For more information about the product please visit http://www.dualshaker.com.