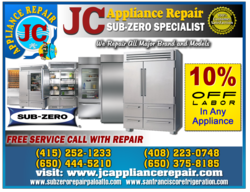 We look forward to helping you with any and all of your appliance needs now and for years to come
San Mateo, CA (PRWEB) November 28, 2012
As a San Mateo commercial appliance repair service, JC Appliance Repair is now offering a 10-percent discount on any labor service for any appliance throughout the holiday season. The San Mateo appliance repair service company all major appliance brands and models with a free service call for any repair. JC Appliance Repair also offers same-day service and a 100-percent customer satisfaction guarantee.
"We look forward to helping you with any and all of your appliance needs now and for years to come," Jose Castro of JC Appliance Repair said.
JC Appliance Repair is committed to reliable repair, and prompt and speedy service. By paying attention to the details, its repairmen demonstrate that they have the knowledge and expertise necessary to work on major appliances using quality parts from well-known factory distributors. All of its appliance repairs come with a one-year warranty and are guaranteed within a 90-day period.
The San Mateo refrigerator repair company services central air conditioners, central heating systems, gas wall heaters, gas floor heaters, freezers, dishwashers, dryers, garbage disposers, ovens, ranges/cooktops, range hoods, refrigerators, washers and water heaters. JC Appliance Repair also services, repairs and installs a wide variety of gas and electric appliances used in the home.
Complete the online request form or call 650-375-8185 to schedule an appointment today. Bay Area residents consistently choose JC Appliance Repair for all of their needs because of its 24/7 emergency services and unbeatable prices.
For more information about any of JC Appliance Repair's services, call 650-375-8185 or view the repair company on the Web at http://www.jcappliancerepair.com.
About JC Appliance Repair
For more than 24 years, JC Appliance Repair has provided expert appliance repair services throughout the San Francisco Bay Area, including San Mateo and Palo Alto. The repair company specializes in providing exceptional appliance repair services, such as commercial appliance repair, refrigerator repair and appliance repair for nearly all household appliances from every major brand name. JC Appliance Repair's team of trained and certified appliance repair experts specializes in retrofitting old appliance systems, commercial compressor replacements, construction, services, repairs, and maintenance of walk-in freezers and coolers.