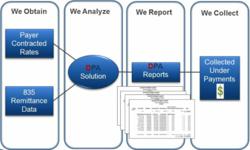 Tallahassee, Florida (PRWEB) November 29, 2012
Exchange EDI. LLC, an innovation leader in healthcare cash flow management technology and services announced today the release of its newest service "Direct Payer Audit", an automated payer underpayment detection system.
"The 2011, AMA National Health Insurer Report Card of Commercial Payers, reported that approximately 15% of all claims processed by the seven largest payers are paid incorrectly", stated Patti Velasco, Managing Partner of Exchange EDI. "This results in billions of dollars in underpayments to the provider community. It is estimated providers are underpaid between 2% and 8% of their gross payer revenue. For example, a provider group with gross revenues of $20 million annually may be losing $300K to $1M dollars a year in underpayments."
B. P. Fulmer, Managing Partner of Exchange EDI said, "Direct Payer Audit is available as an integrated feature of our "Direct Quote*" patient cash flow management platform, or as a "stand alone" service offering. "Direct Payer Audit is targeted at the underserved mid-size healthcare practice market. However, larger practices and facilities are showing an interest because it is much more cost effective than other available options."
Direct Payer Audit is a full service solution that not only identifies suspected payer underpayments, it undertakes the task of collecting the underpayments for the practice. This is important because many practices do not have the availability of resources or tools to effectively and efficiently pursue these underpayments.
About Exchange EDI, LLC:
Founded in 2009, Exchange EDI is focused on developing intelligent technology solutions that integrate health and financial transactions into a single process, delivering real-time information at the point-of-care to accelerate the patient cash flow management process while reducing costs and securing accurate payment from payers. (http://www.exchangeedi.com)