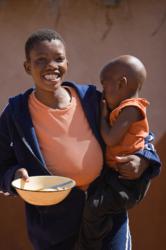 The goal of Esymix Nonprofit, Inc. is to offer a technology that would be able to save human lives in third world countries by using the same technology in developing the Dual Shaker™ fitness bottle cup.
San Francisco, CA (PRWEB) November 29, 2012
As the nation's first nonprofit provider of packaging technology, Esymix Nonprofit, Inc. believes that every individual, their family members and professionals should have access to a technology that can help improve and save lives. Since its foundation in 2009, Esymix Nonprofit, Inc. has been continuously developing ways to raise awareness of and advocate for the long-term benefits of the packaging technology they have developed.
Due to the fact that infants and children up to the age of 8 cannot swallow any pills, the ordinary practice is to give them antibiotics where the medical components are dissolved in a powder. Studies show that in the US, 63% of the participating parents make a mistake while mixing medicine on their own. This may cause a serious problem in the treatment of patients and in this case, their children. Such behaviour can even lead to the death of a child, depending on the disease that is being treated.
In 3rd world countries, the problem is even worse. The drinking water situation in the US is excellent, but in 151 out of 194 countries it is just the opposite. For example in the Democratic Republic of Congo (DRC), it's almost impossible to ensure correct serving of drugs for infants and children. This is why DRC hast the highest morality of infants in the world. DRC has the most number of infants, or children below 1 year, dying in the African continent, with 126 deaths for every 1,000 live births. As with the statistic in the African region, the top 3 child killers in DRC are as follows: pneumonia (20%), diarrhea (19%) and malaria (17%).
Esymix Nonprofit, Inc. aims to offer the same technology already being used in their fitness bottle cup Dual Shaker™. This innovative product works through the Twist & Shake method. Imagine bottle shakers, just smaller in size and packaged for single use, which can be used for mixing medicines, such as antibiotics.
"We successfully modified the technology for medical needs and now we are looking for a pharmaceutical partner with a strong belief in social responsibility like us," said Adam Azani CEO and Founder of Esymix Nonprofit, Inc. and Dual Shaker™.
The deficient way of mixing a medicine can be completely avoided by the packaging solution of Esymix Nonprofit, Inc. The medical packaging is a system consisting of two chambers, one holding the water the other containing the medical powder components. The packaging itself guarantees 100% accuracy in terms of mixing the medicine.
The formulation for mixing medicines is specialized for illnesses such as pneumonia, diarrhea, dysentery, and malaria. The packaging solution of Esymix Nonprofit, Inc. is very pragmatic. Anyone can prepare a sterile medical product within few easy steps, especially in 3rd world countries.
How to Act for Esymix Nonprofit, Inc.:
Act for Esymix Nonprofit, Inc. by visiting http://www.esymix.org to learn more about the campaign.

Participate with the commercial project: On December 12, 2012 (12.12.12), Dual Shaker™ will be launched at Kickstarter.com. This is the counterpart company of Esymix Nonprofit, Inc. that aims to revolutionize the way people mix drink. Dual Shaker™ is the commercial project of Esymix Inc. to finance the cause of Esymix Nonprofit, Inc. For more information about the Kickstarter campaign follow the Dual Shaker™ on Facebook and Twitter or go to the website http://www.dualshaker.com.
Educate through the Nonprofit advocacy: Be inspired by what is possible for children in 3rd world countries. Visit http://www.esymix.org to learn about the advocacies of the organization. After successfully establishing a pharmaceutical partner, a fundraising campaign will be started to give drugs out for free and save human lives.
Advocate: Keep a pulse on what's happening around. Start reading about children from 3rd world countries and the conditions that they are in right now. Be vigilant and find out how simple acts can benefit these children. Spread the word and encourage other people to start caring.
And, now that its counterpart Dual Shaker™ is getting ready for its launching at Kickstarter.com, Esymix Nonprofit, Inc. is asking everyone to support a company that has a vision for all.