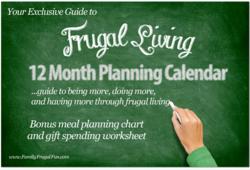 Advance planning is the key to real frugal living
(PRWEB) November 28, 2012
Maggie Miller, a consumer shopping expert and blogger at FamilyFrugalFun.com found herself searching for a very specific calendar for her readers. She discovered that so many people wanted to live a frugal life but just weren't sure when to buy, what to buy and how to find the best price at different times of the year on everything from automobiles to ice cream. When the hours of searching returned no results Ms. Miller began the long task of making her own frugal Calendar. "The 2013 Frugal Living 12 Month Planning Calendar has now been released and I'm so excited," exclaims Miller.
"Consumers want to save money and buy everything at the lowest price point but most people are busy with family and work and need a guide to help them month by month. That is what I've developed!" she said. "My 12 month frugal calendar is a month by month guide to what is on clearance, what is in-season for fruits & vegetables, what month you should purchase specific products or foods and so many frugal living tips. I've even included the 1st day of spring with a reminder to stop by Rita's Italian Ice for your free 1st day of spring Rita's Italian Ice." Boasts Ms. Miller again.
The frugal living expert has also included 2 bonus pages in her calendar. The 1st is a chart for meal planning that the discount diva swears by. She claims that meal planning reduces food waste, saves on weekly grocery expenses, cuts back on time in the kitchen, helps with weight maintenance as well as weight reduction, and most importantly she says, saves parents from the "dinner crunch hour" and asking that dreaded question of "What's for dinner tonight?" The 2nd bonus is a gift spending worksheet. This gift planning chart is unlike the usual charts most have seen with the name of the person & the gift purchased next to the name. The 2013 Frugal Living 12 Month Planning Calendar bonus gift chart has you fill in the name along with gift ideas, the best time to purchase those gifts on discount along with your budgeting amount and then finally the actual amount spent.
"Advance planning is the key to real frugal living" say Ms. Miller. "For example, if you purchase a small gift of love for your spouse each year on your wedding anniversary then the best time to purchase that special "I love you" teddy bear is right after Valentine's Day when it's on clearance! Seasonal gifts frequently go on clearance for 70% to 90% off making for a great bargain. My calendar will help you with that planning month by month so you can save year round."
To purchase the 2013 Frugal Living 12 Month Planning Calendar go to http://familyfrugalfun.com/2013-frugal-living-12-month-planning-calendar/
FamilyFrugalFun.com is a blog about frugal living tips, creative ideas for parents and having fun for families. It was established over 2 years ago and quickly became a hit as evidenced with the blog's high Facebook Fan count. Beth Rose and Maggie Miller are frugal living experts and co-authored of Top 100 Mobile Text Coupons on Amazon's Kindle. Ms. Miller has been seen on Good Morning Delmarva, had frugal tips in All You Magazine and had their blog voted CBS Baltimore's Most Valuable Blogger People's Choice Award in 2011. You can also find Ms. Miller's creative ideas on Pinterest.