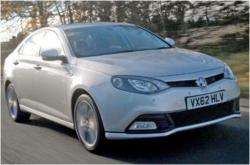 (PRWEB UK) 28 November 2012
MG6 DTi TECH 1.9 D S
THE MG6 got off to a quiet start when it was launched last year. In part, the low-key introduction was deliberate.
The MG badge had been absent from the new car market for six years, and today's MG Motor is a very different creature to the old MG Rover which went bust in 2005.
Today's company is owned by SAIC, a giant Chinese outfit which turned out about four million cars last year. It acquired many of the assets of the old MG, including the Longbridge factory site in Birmingham and much of the intellectual property.
But in most respects this is a fresh start, not a continuation of the old MG.
Another brake on progress was the lack of a diesel option on the MG6. The original petrol car, with its single turbocharged engine option, wasn't very attractive to CO2-conscious, tax-aware business buyers.
But this new DTi TECH diesel version of the MG6 is much more interesting for company car users. It's available as a five-door hatch, badged the GT, and as a saloon called the Magnette.
MG thinks that about 70 per cent of Magnettes and hatches in top TSE form will go to businesses, although cars with the lower trim levels will appeal to company car drivers who want to minimise company car tax yet drive a large family car.
Read more about the MG6 in the new review released from Business Car Manager
Business Car Manager has a variety of useful guides including the car tax calculator tool, business car advice and more Chevrolet reviews among others
For more information, visit Business car Manager at http://www.businesscarmanager.co.uk/