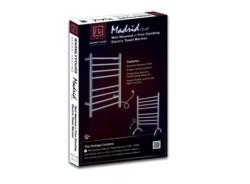 We are excited about this next chapter as we sync our two "worlds" together and build on a strong partnership for the future.
Chicago, IL, USA & Toronto, ON, Canada (PRWEB) November 28, 2012
WarmlyYours Radiant Heating, makers of energy-efficient radiant electric heating solutions for any flooring surface and bathroom spas, announced a new retail partnership with Lowes Home Improvement, Canada.
WarmlyYours is pleased to announce the introduction of the Madrid Dual Towel Warmer, exclusively designed for Lowes and available in 32 stores throughout Canada.
"Lowes–Canada represents the first WarmlyYours retail product on the shelf. In true WarmlyYours style, we work to stand out and ensure that we personally serve each retail location with in-store training and direct account management," said WarmlyYours Director of Business Development – North America Elodie Pasek. "We are excited about this next chapter as we sync our two "worlds" together and build on a strong partnership for the future."
The exclusive design and product for Lowes–Canada retail, is a part of WarmlyYours' larger vision to expand on creating exclusive product lines and kit offerings to more retail environments.
Lowes select towel warmer, the Madrid Dual is a stunning fixture that is built with exquisite craftsmanship, delivering comfort and tranquility to any home, ready to fit any decorative style.
Manufactured with a flawless brushed stainless steel finish, the Madrid Dual provides lasting beauty and durability while creating a tranquil and relaxing spa atmosphere. Designed to operate continuously, this towel warmer conveniently plugs into the wall without the need for hardwiring or programming. The attachable legs offer a unique design and the ultimate in flexibility for freestanding models or wall-mounted installation. With 8-sleek horizontal bars, the Madrid Dual will easily and conveniently dry and warm large towels.
The Madrid Dual is backed by a No 5-year warranty with a C-UL-US listing mark to ensure maximum safety.
###
About WarmlyYours Radiant Heating Inc.
With trusted industry experience, 13+ years of business, WarmlyYours, located in USA and Canada, offers the industry's most innovative energy-efficient and maintenance-free electric radiant heating solutions for virtually any flooring surface and radiant heat solutions for any area, including a full towel warmer collection, radiant panels, snow melting, and roof and gutter deicing. WarmlyYours offers the widest selection of radiant heating products and has the hottest floor-heating roll on the market, with a fully heated roll that utilizes a full 15-watt per square foot.