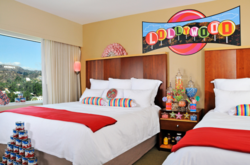 The world's most extravagant and ridiculously fun candy emporium has designed a custom Sweet! Suite for Loews Hollywood Hotel with over 100 pounds of candy. It's sure to make this year's holiday travel sweeter than ever.
Hollywood, CA (PRWEB) November 29, 2012
Check-in to the handcrafted, candy-coated Sweet! Suite at the new Loews Hollywood Hotel this holiday season. The world's only Sweet! Suite was custom designed by the chocolate-making, lollipop-twirling candy-makers of Hollywood's newest 30,000 square foot candy emporium, aptly named Sweet! Hollywood.
A stay in the Sweet! Suite includes:

Two King-sized beds with spectacular views of the iconic Hollywood sign
$100 gift card to Sweet! Hollywood per night
Complimentary parking
Live candy-making demonstration and private tour of Sweet! Hollywood's Sticky lab
Two giant lollipops; one 5-pound WONKA® bar and all the Sticky candy you can eat
The Sweet! Suite is available Dec. 1, 2012 -Jan. 3, 2013 starting at $409 per night. Reservations can be made by calling 800-23-LOEWS or visiting us at http://loewshotels.com/hollywood online. Based upon availability; some restrictions may apply.
The scent of sugar fills the air in the spacious Sweet! Suite, which boasts over 620-square feet outfitted with over 100 pounds of confections, including mouth-watering hard candy from Sticky (don't miss them making the candy live in the store!), towers of gumballs, a giant chocolate bar, a rainbow of lollipops as well as a mini-bar stocked with fantastic flavored libations and dreamy ice cream bars.
Just a hop-skip-and-a-jump from the hotel, within the Hollywood & Highland Center, Sweet! Hollywood provides endless entertainment for visitors young (and young at heart). Featuring 12 themed boutiques in a glorious retail carnival, Sweet! turns candy into an entertainment experience:

Visitors can create custom chocolate bars in the Chocolate Lab
Watch gumballs race through 700 feet of track—propelled by a beautiful red Ferrari
Delight in the magical world of the store's WONKA® Inventing Room, a fantastical sweets emporium that brings to life the world of eminent chocolatier Willy Wonka and his deliciously outrageous candy creations
About Loews Hollywood Hotel
Situated in Los Angeles' most revered neighborhood, where dreams come true and commerce thrives, the Loews Hollywood Hotel rises 20 floors above the famed intersection of Hollywood and Highland. Spectacular views of the iconic Hollywood sign and Los Angeles cityscape set the stage for 632 rooms including 113 spacious suites as well as a rooftop pool and 24-hour fitness center. The hotel is the centerpiece of the Hollywood & Highland Center, where guests have direct access to over 80 shops, 26 restaurants and eateries, 12 bowling lanes, seven movie screens and the newly renamed Dolby Theatre, where the Academy Awards are held and the home to IRIS, Cirque du Soleil's newest production and first resident show in Los Angeles.
About Sweet! Hollywood
Over 30,000 square feet of confections make up Sweet!, the wackiest and wonderful candy emporium in the world, located in the Hollywood & Highland Center. Featuring 12 themed boutiques in a glorious retail carnival, Sweet! Hollywood turns candy into an entertainment experience. Visitors can create custom chocolate bars, take personal tasting tours and play exciting candy games in addition to shopping in candy boutiques that are exclusive to Sweet! Hollywood. Shoppers can play a tune as they climb the musical piano key stair steps to the store. Inside, watch gumballs travel 700 feet of track—propelled by a beautiful red Ferrari. The store features inventive tasting stations that allow shoppers to freely explore a vast variety of candy using the refillable Sweet! Candy Card. The Candy Card allows visitors to easily journey through the tasting machines, interactive games, bins of wrapped candies sold by the pound, and an incredible, build-your-own-chocolate-bar workshop, the Chocolate Lab, featuring 30-plus creative mix-ins. For more information visit http://www.sweetlosangeles.com