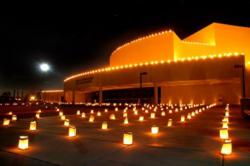 Farmington, N.M. (PRWEB) November 27, 2012
Festivals, parades and glowing light are highlights of the holidays in Farmington, the largest community in the the Four Corners.
NOVEMBER 28 – DECEMBER 1
FESTIVAL OF TREES
Four days of holiday entertainment at the Farmington Civic Center, presented by Presbyterian Medical Services. This series of wonderful family events will be held in an indoor forest of beautifully decorated Christmas trees.
NOVEMBER 29
FARMINGTON CHRISTMAS PARADE
This annual lighted Christmas parade starts at 5:45 p.m. The parade route runs through Historic Downtown Farmington along Main Street.
NOVEMBER 30
RIVERGLO
Luminaries light up the Animas River and the evening sky for this holiday event at Berg Park from 6 p.m. to 8 p.m. There will be carolers and bell choirs as well as hot chocolate and food.
DECEMBER 1
SAN JUAN COLLEGE LUMINARIA DISPLAY
This event lights the campus of San Juan College with thousands of candlelit bags. It is the largest luminaria display of a nonprofit entity in New Mexico. San Juan College is at 4601 College Blvd. in Farmington.
DECEMBER 11
BLOOMFIELD SANTA IN THE PARK
From 4 p.m. to 7 p.m. at Salmon Park in Bloomfield, N.M. children can visit Santa Claus and his elves. Refreshments to take the chill off and luminaria light the way at this holiday event.
DECEMBER 19
AZTEC NATIONAL MONUMENT
Come to watch the winter solstice sunset alignment along the back wall of Aztec West, stroll through the Aztec Ruins Historic Visitors Center district by the light of 2,000 luminarias and enjoy a cup of cocoa. Admission is free from 4:30-8:00 p.m.
DECEMBER 21
THE FARMINGTON PUBLIC LIBRARY
The library staff is celebrating Winter Solstice with fun activities before and after the sun crosses the mark in the library veranda at 12 noon at 2101 Farmington Avenue.
DECEMBER 22
LIVE NAVAJO NATIVITY
This annual live nativity has participants in traditional Navajo dress and live animals. The Nativity scene is presented by children at the Four Corners Home for Children, at 2103 W. Main St., in Farmington, from 6 p.m. to 8 p.m.
The Farmington Convention and Visitors Bureau is the city's destination marketing organization. The staff offers visitor services and works to promote major annual events in the city and surrounding area.