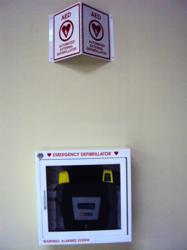 Brentwood, TN (PRWEB) November 28, 2012
In an effort to raise AED awareness in 2012, AED.com is in the process of donating 100 AEDs to a variety of foundations, churches, businesses, schools, and individuals that submit their story for consideration. During their search, AED.com representatives corresponded with an Eagle Scout candidate in Oakdale Borough, Pennsylvania who was working on completing a project that would benefit his community. Peter Cochran decided he wanted to facilitate the implementation of an automated external defibrillator (AED) in the local community center that serves as both a meeting place for numerous local clubs and organizations, as well as the senior citizen center for Oakdale Borough and the surrounding communities. "We made the decision to donate a Cardiac Science Powerheart G3 AED to the community center because we know too well the statistics surrounding public sudden cardiac arrest (SCA) in these high traffic areas—survival depends on two basic actions occurring within five minutes of a victim collapsing: early and immediate CPR and early defibrillation to restart the heart," said Becky Becker, a member of AED.com's Donation Team. "AED awareness can be a grassroots effort, and Peter's knowledge, desire and action is the perfect example of what our company wants to support. We believe that awareness will spread one community center, one school, one church, and one business at a time." The Oakdale Borough Community Center not only has an AED, but they also have staff that is trained in CPR and a medical oversight program to ensure that their AED is always maintained.
AED.com is headquartered in Brentwood, TN and provides AED products and services to over 20,000 customers in all 50 US states and 35 countries worldwide.